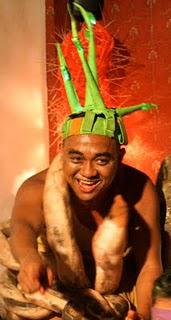 Guerilla theater company Sipat Lawin Ensemble is restaging its device-work adaptation of French Playwright Alfred Jarry's avant-garde play "Ubu Roi" from July 29 to August 6, 2011 at two venues.
Last year's performance of "HARING +UBU-L" was a pre- and post-elections investigation of Philippine politics, culture and society. This year, "Haring +ubu-l" aims to revisit, re-investigate, and re-expose the subject of excesses and exploits as represented by the performers, the audiences and their consciousness.
"The title alone foretells the scatological humor involved. Yes, it is toilet humor brought to an extreme but well-thought out and intelligent level," wrote Walter Ang for the Philippine Daily Inquirer. Or, as JK Anicoche, Artistic Director of Sipat Lawin Ensemble, puts it, "The medium is the message."
Sipat Lawin Ensemble is a company composed of young Theater Arts alumni from the Philippine High School for the Arts, and their collaborators.
"HARING +UBU-L" runs July 29, 7 p.m.; and July 30, 3 p.m. and 7 p.m., at the Museum of Contemporary Art and Design, School of Design and Arts, DLS-CSB; and August 4, 5 and 6, 3 p.m. and 8 p.m. at Tanghalang Huseng Batute, Cultural Center of the Philippines.
Contact 0917-5008753 or 9645949, e-mail [email protected] or like on Facebook: Sipat Lawin Ensemble.