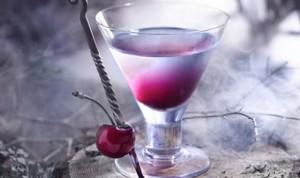 It's almost disastrous to even think about the fact that True Blood's season 4 finale will air this Sunday. Can you believe it, Truebies? No, we can't either. To help dull the panic attack that will most likely hit immediately following "When I Die," Betty Crocker has come up with two True Blood inspired cocktails that sound like a delicious mix of sexy, mysterious, and fun:
Blood-Red Sangria Cocktail

• Sangria Simple Syrup
• 1 cup sugar
• 1 cup red wine, such as Merlot or Zinfandel
• 1 cup dark sweet cherries, stemmed, pitted, and halved
• 1 stick cinnamon
• Strips of orange peel from one medium orange (orange part only)

Sangria Martini Cocktail

• Ice cubes
• 3 tablespoons (1 1/2 oz.) citron (citrus) vodka
• 2 tablespoons (1 oz.) clear orange-flavored liqueur
• 2 tablespoons (1 oz.) sangria simple syrup, chilled (above)
• 1 dark sweet cherry on a cocktail pick

To make simple syrup, in 1 1/2-quart saucepan, mix sangria simple syrup ingredients. Heat to boiling over medium heat. Simmer three minutes, stirring occasionally. Remove from heat; let cool 30 minutes.

Strain mixture through fine mesh strainer; discard solids. Cover and chill sangria syrup until ready to use. Makes about 1 1/2 cups.

To make cocktail, fill cocktail shaker with ice. Add vodka and orange liqueur to cocktail shaker; cover and shake. Strain into martini glass. Drizzle sangria syrup into cocktail in glass. Garnish with cherry.
Anyone planning to have a finale party with fun drink and food recipes (and maybe costumes?)? Let us know in the comments section below!
Source: Hamptons.com – Blood-Red Sangria Cocktail From Betty Crocker Celebrates 'True Blood' Finale
Photo Credit: Rogers & Cowan