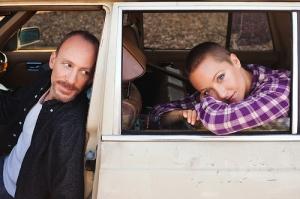 Genna Giocobassi and Jesse Dyen began performing together in 2009, when Genna hired Jesse to play piano in her band. The bond between the two grew so strong that they then decided to write and perform as a duo; Genna and Jesse.
Jesse takes the lead on the duo's latest single, "Boomerang," performing the lead vocals, guitars, piano and organ, while Genna provides the backing vocals; a combination of sublime harmonies and vocal percussion. The result is an indie pop gem that fits the bill perfectly.
First off, we have a strong melody delivered with confidence and a pinch of attitude. Genna's vocal percussion and adlibs in the background add a layer of sass and charm that make the track even more likeable. Jesse delivers his lyrics with conviction and at times with a slight (and very subtle) country twang. The duo clearly know how their voices work and sound together, and use this knowledge and technical ability to their advantage. The harmonies are like candy for the ears; sugary sweet, but without the calories.
The chorus is incredibly catchy, and will stick in your head for days. The duo have written a really strong pop song, with a chorus which is so easy to sing or hum along to. The lyrics are simple without being trite or contrived, and they have a sentiment that most of us can relate to in one way or another, at some point in our lives:
"You can love me just a little, or love me all the way. You can love me in the middle, that's OK. I'm gonna boomerang back your way."
Recorded by Roger Rocha (front man of the Goldehearts and former lead guitarist of Four Non Blondes) at his San Francisco studio, "Boomerang" also features the talents of Klaus Fluoride (of the Dead Kennedys) on bass and Matt Swindells on drums/percussion. Rocha also plays lead guitar on the track.
"Boomerang" is a solid pop song for those who like their pop with a little more depth and sincerity, delivered with charm and just the right amount of sassy attitude. Genna & Jesse are definitely a duo to look out for.