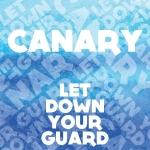 Female fronted Boston based Canary is a rock band that draws on influences from classic American rock, pop and the British Invasion. The band has played shows at the House of Blues, South by Southwest, and has opened for Jackson Browne. Judging by the strength of Let Your Guard Down, it's easy to see why this band (which has not even been together for three years at the time of writing) has achieved so much in such a short space of time.
Let Down Your Guard is a solid piece of pop/rock that has a serious groove to it. The vocals are brimming with attitude and are delivered with an immense amount of confidence and power. Let Down Your Guard is a real in-your-face attention grabber – with a memorable hook, bags of attitude and faultless vocals, it would be hard to ignore.
Let Down Your Guard was produced by Canary and Brian Packer, engineered by Baines Kluxen, Kevin Luu and Ellis Tucker, and mastered by Scott Craggs at Old Colony Mastering. The production team deserves a huge amount of praise for their work here – Let Down Your Guard's production is flawless. The sound is crystal clear and each instrument shines individually. The vocals are right at the front of the mix; and rightly so. The vocal performance is outstanding, particularly in the second half of the track. There's some serious vocal talent on display here.
Canary has shown a massive amount of potential with Let Down Your Guard, something that is not easy to do in just three minutes. Reminiscent of Guano Apes, with a mix of Led Zeppelin, Fleetwood Mac and Roxy Music thrown in there, Canary could be exactly what is missing, and is needed, in today's music scene. With this much talent on display in one recording, Canary could be dangerous. Very dangerous, indeed… and that's an exciting prospect.