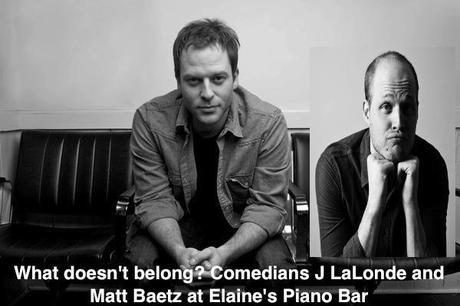 Tomorrow night Disclaimer Underground Comedy presents comedians J. LaLonde and Matt Baetz at Elaine's Piano Bar for free.
LaLonde and Baetz come to Asheville as part of their Single and Married Comedy Tour.
Show starts at 8:00 p.m.
From LaLonde's Bio:
You can see J. LaLonde in comedy venues around the nation where he's performed with Louis C.K., Ralphie May, Carl Labove, Jon Reep, Bert Kreischer, Steve Byrne, Doug Stanhope, Robert Kelly, Whitney Cummings, Jim Breuer and many more. From comedy clubs in New York City to the Lincoln Theatre at the South Beach Comedy Festival, J's irrational voice of reason has questioned the rationality of relationships, politics, pop-culture and religion. He filmed his first stand-up DVD at The Historic Tennessee Theatre and plans on releasing his debut album in 2012.
Here is a clip of LaLonde performing:
From Baetz's Bio:
Like many comedians, Baetz's love of attention and cheap laughs outweighed the support and love he was getting from his girlfriend of three years, and so he packed his bags, kissed her goodbye, gassed up his Ford Focus, and headed for the Hills.

Baetz has appeared on The Late Late Show with Craig Ferguson twice as a comedian and over 50 times as a featured performer in various comedy sketches. Baetz worked with Green Mountain West on a television pilot entitled, The Matt Baetz Project, centering on his life as an aspiring stand up comedian struggling to survive in Los Angeles.

In 2006, Baetz traveled to the Kingdom of Bahrain as part of a USO tour to the Middle East. Baetz joined Craig Ferguson and Kathy Kinney in celebrating Thanksgiving with the men and women of the Australian armed forces.
Here is a clip of Baetz performing: