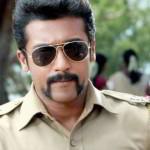 One of the much awaited movies of the season Singham 2 sequel to Singham (Yamudu) in Telugu would hit the screens all over the state tomorrow. Few shows of the film have already been finished in overseas and here is a report of the film from the concluded shows.
First half of the film is pretty average, with the interval bang being the best part. The main reason for the average feel is the length of the film which is nearly one and half hour. Also the focus is more on the comedy, love and other emotions with action taking a back seat. It is in the second half the action lies but due to lack of a strong villain the knock out impact is missing despite the film being decently entertaining and better, in comparison to the first half. The climax has been finished in an ordinary way.
Singham therefore delivers in parts to the mass action lovers but lack of a strong villain is its main problem along with the excessive length and predictability. Music is poor but picturization of a couple of songs save the day. Suriya is loud at times, much louder than the prequel but still he manages to be the mainstay of the enterprise by a long shot. With its average content and talk the film would find it difficult to survive at the ticket counter in AP, with so many films slated to release week after week in Telugu.