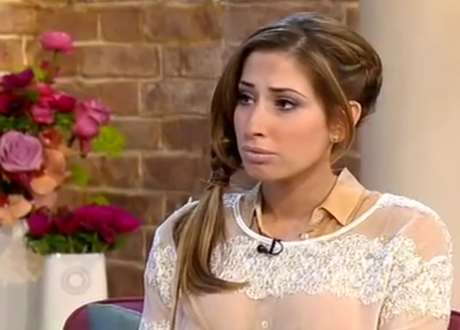 A sad-looking Stacey Solomon on This Morning. Watch the clip below.
Yikes! Quondam X-Factor singer and I'm A Celebrity Get Me Out of Here winner Stacey Solomon has been snapped smoking. So? you ask. Well – she's pregnant! Yes, the willowy 22-year-old star, who already has a four year old boy called Zachary, was seven months enceinte when her illicit moment was captured.
She's even sobbed in contrition on the sofa on the television programme This Morning. She can't control her 3 a day habit. It's like Tara Palmer-Tomkinson and cocaine. But FAR, FAR, WORSE. Commentators have jumped out of the woodwork to castigate her. But strangely enough, many more have come out in support, saying that the stress caused to her by this unwanted attention might be more dangerous.
"There's nothing I could ever say to make it right, because I know how much I love my son and my [unborn] child and I wouldn't want to do anything in the whole wide world to harm them," gushed Solomon, on Max Clifford's Exclusive TV, quoted on MTV.
Oh no! The fallout has been tremendous. She's been axed from this year's Foxy Bingo Mum of the Year Competition, and she's lost her title from last year. But it's all right, other luminaries such as Natasha Giggs (who? asks Periscope), Amanda Holden and Katie Price (aren't they the same person? thinks Periscope) are still there to pick up the obviously coveted gong and well-respected gong. Don't worry though – supermarket chain Iceland, which Solomon represents, is standing by her. WE CAN ALL REST EASY.
Scarlet letter! Marina Hyde on her Lost in Showbiz column in The Guardian was having a whale of a time. "Should not a scarlet letter be pinned to this young mother's front for all eternity, the better to allow civilised society to showcase her sin?" But, more seriously – "at least some of the outrage might be apportiioned differently." What about the paparzzo who stalked a pregnant woman all day? What about the papers making the stress levels of a pregnant woman rise? "What indeed of that unofficial parental police force" that spends all its time posting "sub-amoebic comments?" And what about Foxy Bingo? It's a gambling site, for heaven's sake! What gives it the right to be a moral arbiter? And is there "a sentient being over the age of seven … who takes the remotest notice of such fatuous marketing ploys?"
Who are we to judge? Lindy McDowell on The Belfast Telegraph agreed. "Apparently it's OK to gamble when you're pregnant. But not smoke." Of course, there are excellent reasons not to smoke when pregnant. It is hard to give up though. And who "are we to judge?" We're all "impelled" to judge these days. "We've all made mistakes. Give the girl a break."
Still, have a care. Dr Robert Lefever on The Daily Mail on the other hand, slightly bizarrely, suggested that Solomon consult her "unborn baby" before lighting up. Smoking shares toxins with your baby. We should all "have a profound sense of responsibility for the health of unborn babies."