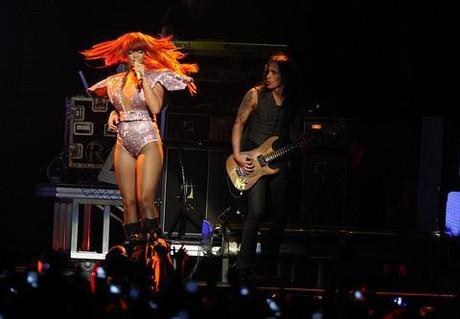 Rihanna, on tour in Australia. Photocredit: Eva Rinaldi Live Music and Celebrity Photographerhttp://www.flickr.com/photos/evarinaldiphotography/5497117242/sizes/m/in/photostream/
Who's Rihanna? It's the sort of question a crusty old judge might ask in a trial; it's also the question asked by a farmer who'd been asked to let out his fields, (appropriately or not called Bangor, in County Down), for a video shoot. 61-year-old Alan Graham, an Alderman for the Democratic Unionist Party in Ireland, who has strong Christian beliefs, had agreed to the request, but on popping out to fetch his tractor, observed what was going on and deemed it unacceptable. Reportedly, traffic "practically ground to a halt" as the singer disported herself amongst the bucolic setting.
Rihanna (also, and mysteriously, known as RiRi), for those of you who don't know, is a 23 year old Bahamian megastar and, according to the BBC, "sex symbol", whose hit song "Umbrella" invaded dance halls and night clubs in 2007. When the farmer gave her the heave-ho, she was recording her new song, "We Found Love", with DJ Calvin Harris. However, according to Hello!, she received a warmer welcome in the New Lodge area of Belfast, where she grabbed a megaphone and yelled, in true popstress fashion, ""I love you Belfast. Thank you."

"I wish no ill will against Rihanna and her friends. Perhaps they could acquaint themselves with a greater God," the farmer was quoted on The Independent.
Was it the bra or lack of a bra? Tim Hume on The Independent reported that it was the singer's "red and white bikini top and jeans" that did the damage. The Sun however led with a photograph of the singer topless, and the priceless headline: "Ooh Arr, where's yer bra Rihanna?"
"He was great," said Rihanna about the farmer, quoted in The Belfast Telegraph.
They're not from round here. There was much excitement about the singer, said The Belfast Telegraph, which was hot on the trail, heading straight to County Down where they found a bus full of female dancers in denim shorts, marquees, lights, and mysterious puffs of smoke.
He can do what he likes. Graham, said Perez Hilton on his blog, must be the only guy ever who wants Rihanna to keep her clothes on. Don't blame him though – it's "[h]is land, his rules." He probably doesn't see that sort of thing in his wheat fields every day…