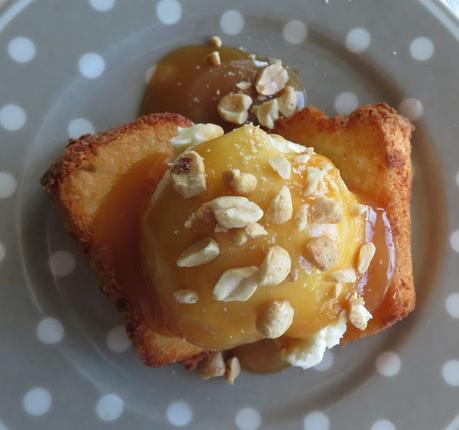 Singed Angel Wings.  I suppose that is what happens when an angel flies too close to the sun. Their wings get singed.
No worries. There have been no angels hurt today in the making of this very easy and simple dessert. This is a very old, old recipe. I discovered the original in the desserts section of the Betty Crocker Picture Cook Book.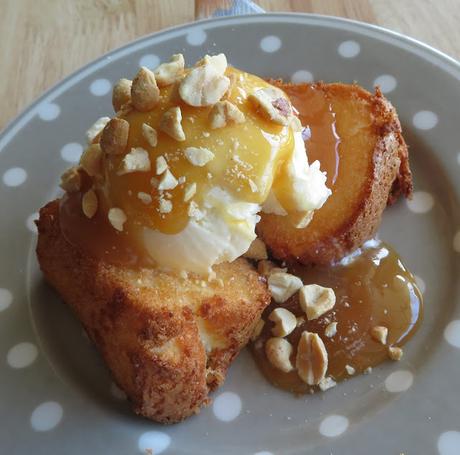 It was in the desserts section under the heading of Favorite Angel Food Desserts.  They had angel food cakes on offer at the store this week, so I thought why not!
Why not indeed! Of course if you want to make your own angel food cake for this you can, and if you are a small family, you can make my recipe for an
Angel Food Cake for Two
.  Its very easy and delicious.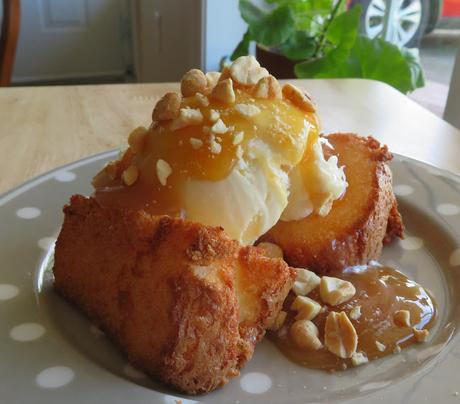 Just be sure to cut the cake into wedges if you want it to look like wings. I am sure that is not really all that important however. You can cut it however you wish to.  Slices, wedges, etc.
What I loved about this dessert was the simplicity of it all.  Quick and easy to.  Everyone needs to have a dessert like this up their sleeves, ready to pull out and execute at the last minute.
Another beautiful thing about it is that you can make as many servings as you want or need of this tasty dessert. One, or ten, its all very easy.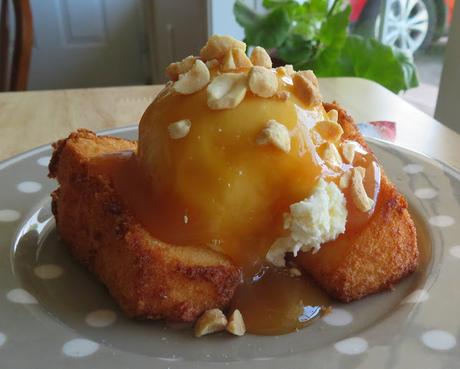 I was drawn in by the title and then just could not help making it.  The original recipe in the book suggested toasting the cake and then serving it with an orange butter sauce.
I thought I can do better than that, and I did!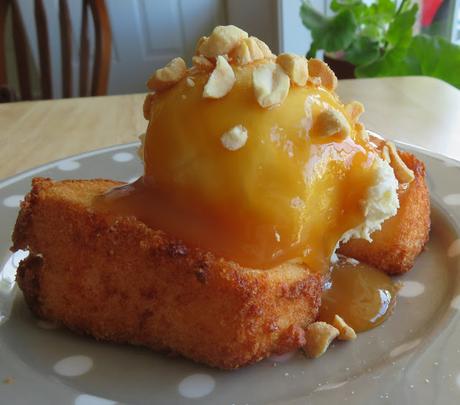 Angel food cake is cut into wedges (the angel's wings.)  The wings are brushed lightly with a bit melted butter and then toasted lightly on both sides under the broiler. (grill in the UK)
How easy is that?  It could not be easier. The hardest part is keeping an eye on them so that they don't burn.  The high sugar content in an Angel food cake makes it susceptible to burning.  So DO keep a close watch when the wedges are under the broiler.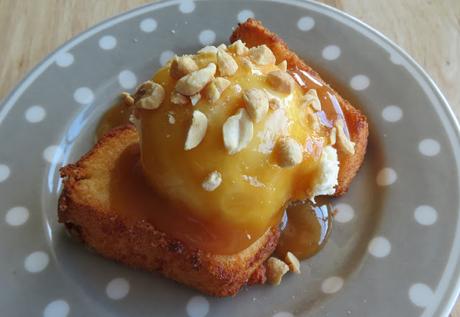 Once the wings are singed you are ready to proceed.  Toasting the wings under the broiler gives them a nice crusty surface, buttery and crisp, but not overly so.
The insides of the cake remain soft like marshmallow. You get the best of both worlds. Crusty and billowy soft at the same time!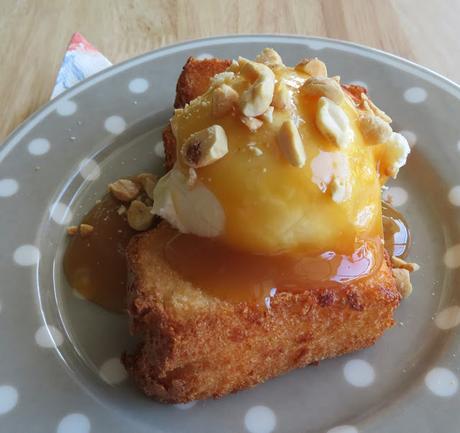 That's the hardest part done.  Toute finis!  All you need to do now is to place those wings on a place and finish the dessert.
In order to make them really look like a pair of wings, I place the toasted cake slices on the plate with the thicker edges to the outside of the place and the thinner edges meeting in the middle. 
Angel food cake was a cake that I often had to bake when I worked at the Manor. My boss, the Mrs. liked it because there was no fat in it.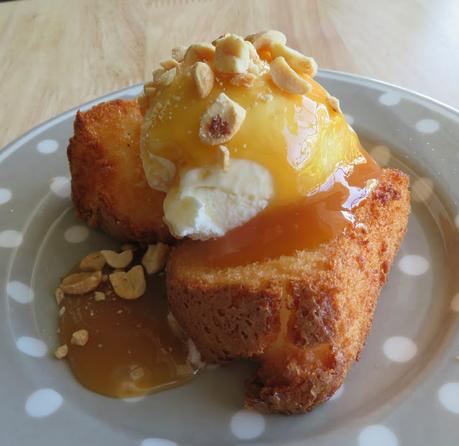 Angel Food Cake is basically just egg whites beaten with a bit of sugar, with flour being folded in. Such a simple thing, and oh so tasty.
Light as air.  Light as a cloud.  Light as an angel's wings, which I suppose is where it got its name from!  No matter, its delicious and contains no fat.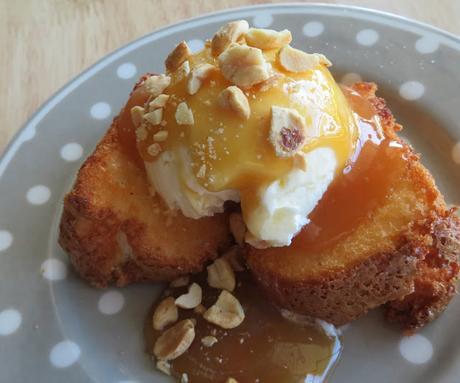 Once you singe the wings and place them on the plate, the hard part is done. You simply have to top them with a scoop of your favorite ice cream, some sauce and nuts.
I love Vanilla ice cream. I know . . .  boring, but what can I say. You can't beat plain old Vanilla ice cream!!  Oh, I do like other kinds, but when you are going to put it with other things, toppings etc. Vanilla works the best every time.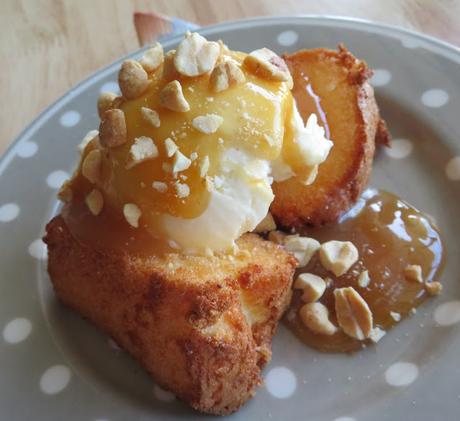 Of course that all depends on what you want to top it with.  A ripple ice cream would also be very nice. Butterscotch ripple, or raspberry ripple, etc. You get the picture.
I topped this dessert today with some warmed Dulce de Leche. I adore Dulce de Leche.  It is one of my favorite dessert ingredients.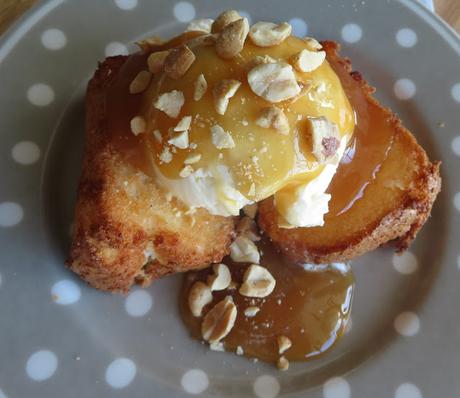 If you are not familiar with it, Dulce de leche is a confection/spread/sauce from Latin America. It is prepared by slowly heating sugar and milk over a period of several hours. The resulting substance takes on a spreadable, sauce-like consistency with a rich flavor and color. This is a result of non-enzymatic browning. It is typically used to top or fill other sweet foods, and it is delicious, with a beautiful caramel-like toffee flavor.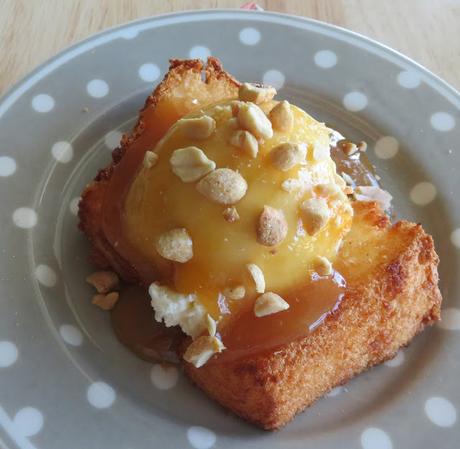 Of course you can use whichever sauce you desire to top the ice cream.  Chocolate sauce would be lovely. So would cherry or strawberry, blueberry, etc.
Crushed fresh berries would also be very nice.  Rhubarb sauce.  Strawberry and rhubarb sauce.  Just pick something which is sweet and saucy and that your family enjoys!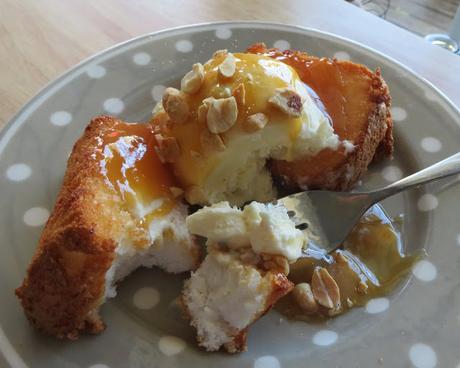 I topped mine with the dulce de leche and then sprinkled crushed peanuts over top.   Toasted pecans would also be very nice, as would walnuts, macadamia nuts, etc.  Just pick your favorite nut. Do be sure they are toasted however.
You could also use a pineapple sauce and toasted flaked coconut. That would be really tropical!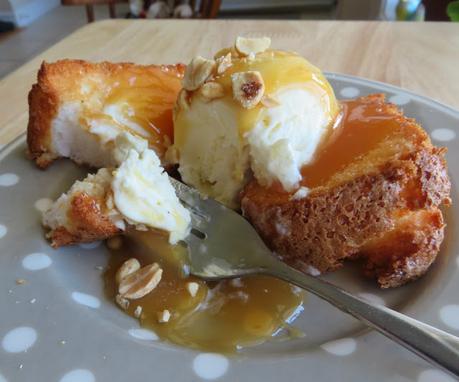 The important thing is not to stress about it. Just enjoy it. This is not a dessert that is meant to be over-complicated.  Simple. Easy.  Delicious.
That's what makes it so attractive to make, and so delicious.  Food doesn't have to be complicated in order to taste good!  Some of the best things in life are the simplest.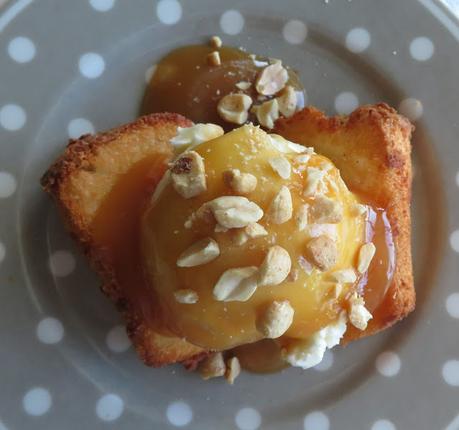 Singed Angel Wings
Yield:
variable
Author:
Marie Rayner
Prep time: 5 Min
Cook time: 5 Min
Total time: 10 Min
This quick and easy dessert can be made to serve as many or as few people as you are wanting to feed. It is quite simply delicious. Amounts are given for one serving. Multiply as needed.
Ingredients
For each serving:
Two wedges of angel food cake
melted butter to brush
a scoop of vanilla ice cream
your favorite ice cream topping to drizzle
chopped toasted peanuts or other nuts as desired
Instructions
Preheat the broiler to high.  Brush melted butter lightly on both cut sides of each wedge of angel food cake.
Lightly brown both sides of the cake under the broiler. (Keep an eye on them as they brown quickly.)
Place the cake wedges on a plate to resemble wings, with the thicker edges at the outside and the thinner edges facing each other in the middle of the plate. 
Top with a scoop of vanilla ice cream, drizzle with the ice cream topping, sprinkle with nuts and serve immediately.  Delicious!
Did you make this recipe?
Tag @marierayner5530 on instagram and hashtag it #marierayner5530Created using
The Recipes Generator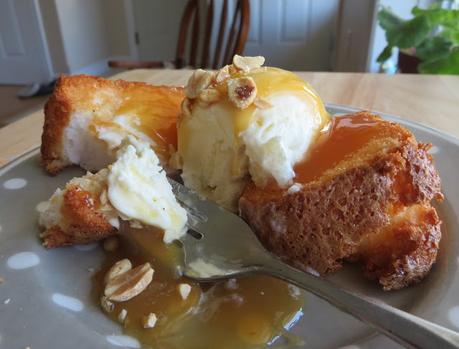 This content (written and photography) is the sole property of The English Kitchen. Any reposting or misuse is not permitted. If you are reading this elsewhere, please know that it is stolen content and you may report it to me at:
[email protected]
Follow my blog with Bloglovin