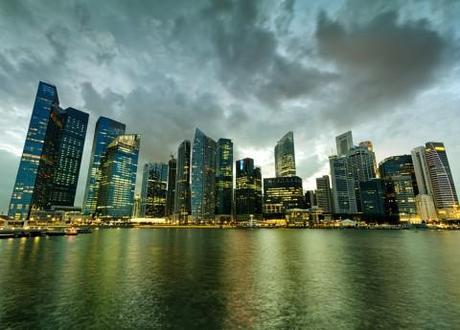 Singapore skyline: No better place to have a layover. Photo credit:
Shutterstock
If there is any city in South East Asia one should endure a long layover in, it is Singapore. The city-state is consistently abuzz with events, both local and international, and as anyone that has spent time in Singapore will tell you, there is no shortage of cuisines to enjoy. An inviting airport, efficient transit experience and an easy to navigate the city make it worth leaving Changi Airport for a day (or night) out.
Checking in
Global hotel chain Fairmont Hotels couldn't ask for a better location in Singapore. Centrally located and situated across from the legendary Raffles Hotel, it is no more than a 15 to 20 minute taxi ride from Changi. Check-in, enjoy the city views, generous in-room Le Labo toiletries and a fresh watermelon smoothie from in-house restaurant Prego before heading back out to explore the city.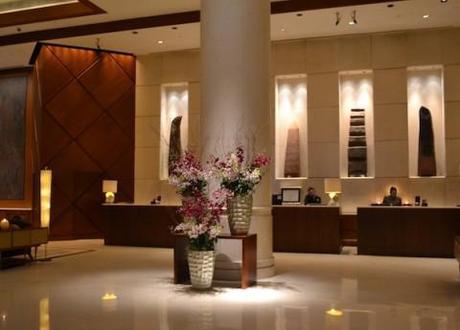 Fairmont Hotel lobby, Singapore. Photo credit: Dawn Kissi
Eating out
Singapore is a foodie's paradise, with its location in South East Asia blending local, Indian, Thai, Vietnamese, Malaysian and even Taiwanese cuisine in abundance. Truffle mooncakes? Check. Truffle dumplings? Find them at Micehlein-star rated Din Tai Fung, an excellent Asia-Pac chain of restaurants with twelve locations scattered across Singapore. Closer to the Fairmont Hotel is Salt Tapas & Bar, where Australian chef Luke Manga has brought his unique concept to North Bridge Road in Singapore. Light bites, outdoor seating and a great location make it a good place to start the night or weekend. For dining on the fancier (and pricier) side, cross the street and indulge at Raffles Grill situated within the grounds of Raffles Hotel.
Shopping it off
Jet-setters know that certain cities within the Asia region are some of the best globally to shop — Hong Kong, Shanghai, Tokyo and, of course, Singapore. Takashimaya on Orchard Road should satisfy most with international selections from known and lesser known brands and designers. Eight floors of shoppers' paradise await, it's open late and sprinkled with great places to eat as well. For a higher-end shopping experience, the Shoppes at Marina Bay Sands will clinch it for those looking for luxury and limited-edition collections. A stunning Louis Vuitton flagship anchors the newly built complex and it is not to be missed.
Getting back to Changi
Given Singapore's airport is known as a transit hub/layover destination and many a long-haul flight, de-stressing (or detoxing) helps before boarding. The organization and layout of Changi Airport is impressive, and so are the options to be wined, dined and massaged while on the premises. Changi has grown into a local hangout for some, with restaurants, shops and even laundry services all available -  get your threads cleaned and pressed in Terminal 2. Or, for somethign a bit more relaxing, you can check in, clear security and immigration then head over to My Foot Reflexology. The name says it all: foot massages to re-balance, detox and refresh before a long flight. Scattered around the departure gates are also Oto Foot Massagers. Usage is free of charge and the ten-minute massage is worth finding one to use. Lastly, with free wireless, computer terminals all over–really, both at arrival and departure gates–as well as hundreds of outlets for connectivity allow one to easily plug-in and email home before boarding and bidding farewell to Singapore.