Sindhi Kadhi
...
Vegetable curry with toasted Chickpea flour gravy
...
my version
…'
version' as people who know this one will tell you that it is not 'authentic' unless one uses cluster beans and lady fingers/okra
…
well we don't like those two in curries and substitute with other veggies
...
the potatoes, drumsticks and kokum stay as per the authentic version
…
this used to be our regular Friday lunch at KJ's house during college time with Aloo Tuk ( double fried potato chips)
…
completely forgotten over the years till BK got married and then started bringing this to office as a special treat
…
I had never attempted to make this till very recently
…
I could have asked BK to get the recipe from her mom in law but she was traveling when I first made this and so in came google aunty to the rescue
…
I have adapted this from Niru Gupta's recipe, the only recipe that I could find that had Kokum in it
…
authentic or not, hope you try and 
enjoy
!!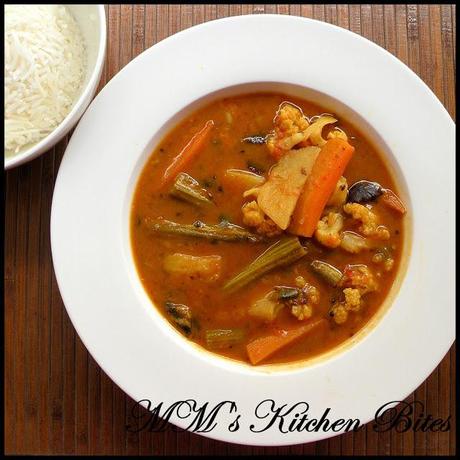 Sindhi
Kadhi/
Vegetable curry with toasted Chickpea flour gravy
Ingredients:
Besan/Gram flour/Chickpea flour, 3 tbsp

Oil, 3 tbsp for the kadhi + some for sautéing vegetables

Cumin seeds, 1tsp

Mustard seeds, 1/2 tsp

Methi Dana/Fenugreek seeds, ¼ tsp

Heeng/Asafoetida, ¼ tsp (optional)

Curry leaves, 8-10

Ginger, roughly grated, 1 tbsp

Salt, to taste

Turmeric powder, ½ tsp

Red Chili powder, ½ tsp

Green Chilies, slit, 2-3 (seeds removed if you want)

Tomatoes, grated and skin removed, 2 medium size

Water, 3 ½ to 4 cups 

Mixed vegetables, cut into finger sized pieces, 2 cups (I used Drumsticks, Potatoes, Carrots, French beans)

Kokum, 4-5 pieces
Instructions:
Lightly sauté all vegetables in a pan one by one using minimal oil and keep aside.
Wash the dried kokum and soak in half a cup of water.
Heat oil, in a heavy-based pan.  Add cumin seeds, mustard seeds, fenugreek seeds, asafoetida and curry leaves to the pan.
Once the seeds start spluttering, add ginger and sauté on low flame for a minute or two.
Add besan and sauté till it becomes fragrant and changes colour to light brown.
Add grated tomatoes, salt, turmeric, green chilies and red chili powder and mix well. Fry for 5-6 minutes.
Slowly add water, half cup at a time and mix well with a whisk so that no lumps are formed. Increase the flame to high and bring to a boil.
Once it comes to a boil, lower the flame, add in the vegetable and kokum and simmer till the vegetables are cooked through – about 10 -15 minutes.
Serve hot with plain white rice.
Notes:
If you don't have Kokum use Tamarind instead. Soak some tamarind is water for half an hour. Mash it up, use the paste and discard the pulp. You would need about 1-2 tbsp.
And if you are wondering what Kokum is:  Kokum is a native to the Southern Coastal regions of India and as far as I am aware there is no English name for it. Kokum is often confused with Mangosteen…but they are not the same…closely related though. The dried Kokum that used to flavor foods is dark purple to black in colour and looks like a thick plum skin. It is used in both hot and cold dishes - it imparts a pink to purple colour and sour taste. I get my stock from Goa

J