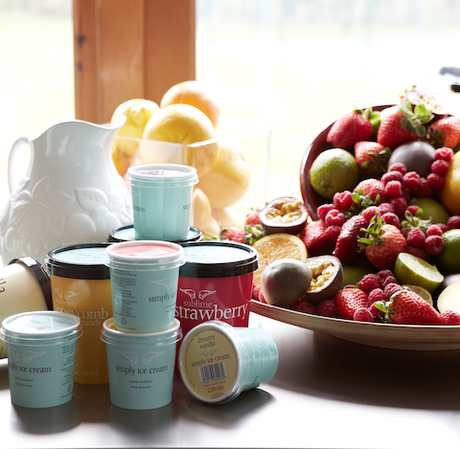 Simply Ice Cream tastes like pure double cream straight from the freezer. Made in small batches by hand try unusual flavours such as Apple Crumble, Stem Ginger and Marmalade, Chocolate and Hazelnut, Lemon Curd and the amazing Brown Bread which neon could eat all day long.
Winners of 2 Gold awards in the Great Taste Awards in both 2009 and 2010, Taste of Kent Awards Top 3 Finalist for Best Producer and Best Product 2011 and Saturday Kitchen's James Martin declared the Honeycomb to be 'the best bought ice cream available" – all signs are telling us it's time we went and bought some more.
Make a trip to Waitrose for Simply Ice Cream's new nut range and a sorbet range. Nut range includes Toffee Waffle Hazelnut, Chilli Chocolate Almond and Pistachio, Maple & Walnut. Sorbet range includes Lemon, Raspberry, Mango, Blackberry.
Tubs in 500ml sizes (RRP £4.65) are available in Waitrose and John Lewis and smaller 120ml sizes (RRP £2) are in local farm shops, village stores, delis, pubs, tea rooms, attractions and restaurants across Kent, Sussex, Essex, Surrey and London.