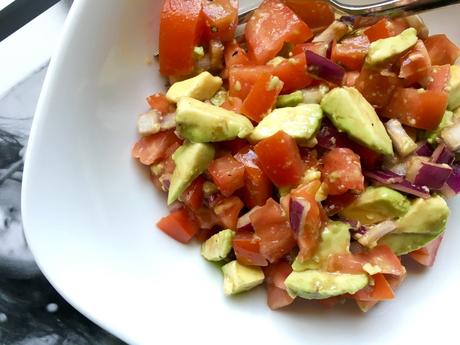 I'm feeling pretty good today. I woke up early and did an hour in the pool and a 5 mile run. I didn't want to spend too much time in the kitchen since the weather is so nice today. I also was feeling light and trim after exercising and wanted to maintain that feeling by not eating anything too heavy.
This tomato and avocado salad was thrown together from leftovers in the refrigerator. I cut up half an avocado, some lingering chunks of red onion, and a tomato then mixed everything together with olive oil, balsamic vinegar, lemon juice, salt, and pepper. It's so simple and I didn't plan on sharing but sometimes the easiest recipes end up being the best tasting. Try it out and tell me what you think!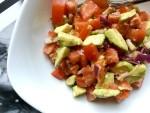 Tomato and Avocado Salad 2016-03-18 14:11:07
Save Recipe
Print Ingredients
1/2 avocado, cubed
1-2 tomatoes, diced
1/4 cup red onion, diced
1 tbsp. olive oil
1/2 - 1 tbsp. balsamic vinegar
1 tsp. lemon juice
salt and pepper
cilantro (optional)
Instructions
Combine all ingredients in a large bowl and serve immediately.
Artisanal Vegan http://www.artisanalvegan.com/