Podcast: Play in new window | Download
In last week's episode, we talked about the importance of a relaxed service motion and how that can help you get a better, more powerful serve. This week, I'm giving you a tool to use to help get that smooth and fluid service motion. It's a simple tool that you can make using a few items I'm sure you have around the house. And by practicing with this tool for just a minute or two each day, you'll soon have that smooth and fluid service motion you're looking for. You can listen to this episode by clicking on the media player above or by listening in with your favorite podcast app. You can also subscribe in iTunes by clicking on this link: tennisfixation.com/itunes.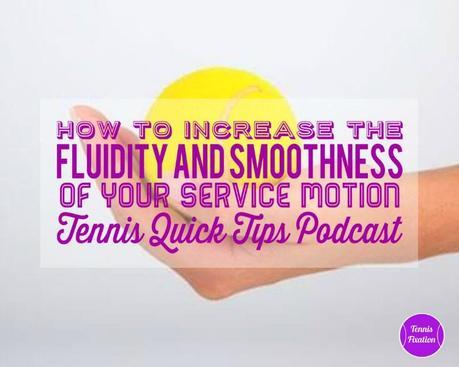 SHOW NOTES
How to Make the "Tennis Ball Tube Sock Tool"
The tool I'm talking about is something I call a "Tennis Ball Tube Sock Tool." I know that's not a very sexy or creative name for this thing but that's what it's made out of - tennis balls and a tube sock.
So these are pretty common items that I'm sure all of us have around our house. I have made this tool for myself and use it pretty frequently. I used a tube sock that I got from one of my kids. I think it was an old soccer sock. I think you could also use a dress sock or a knee sock, just something that's long and stretchy.
So once you have your tube sock, you're going to take up to three tennis balls. Anywhere from one to three. And you're going to stuff those tennis balls all the way down into the toe of the sock. I can tell you that's it's easier to use this tool if you start out with three tennis balls. Over time, you can remove a tennis ball at a time so that you use it with two, or even one when you get really good at it. But start out with three to give it a try.
Once you're got your three tennis balls down into the toe of your stretchy tube sock, that's your tool. Now you've got it. And what you're going to do is hold onto the end of the sock and use it to through your service motion.
Using the Tool to Get a Smooth and Fluid Service Motion
I'll tell you in advance that this isn't going to be a complete and perfect duplicate of your service motion because you're not going to actually toss a ball in the air with your other hand and you're not going to be holding a racket.
But what you are going to do is use this as a way to work through your service motion. What you want to do is have this thing going through a complete, smooth motion. So you're using it almost like you would use a sling shot or a bolo. But it's traveling through space, following your service motion, but it continues to travel in a smooth and relaxed way.
It never stops. It never has a hesitation or a hitch in it because, if you don't use this tool to go through your service motion in a smooth and relaxed way what you'll end up doing is hitting yourself with those three tennis balls. Either you'll hit yourself in the head or you'll hit yourself in the back. It doesn't hurt because you're not going to be whipping it around that quickly, at least not to start with. But if you do have anywhere in your service motion where you're not moving smoothly, then the tool will end up showing you that because it won't continue moving. It will hit you somewhere. When I first started doing this, I kept getting hit in the head.
How to Use the Tool - Video!
Now, if you are saying, "I have no earthly idea what you are talking about Kim. I can't picture this," don't worry. I have a video for you to view. It is a short video and it shows me going through my service motion with the Tennis Ball Tube Sock Tool.
I'm sure you can see from this video that using this tool is not as complicated as it might sound. It's really pretty simple.
Once you get the hang of using this, this is something that you can easily do just for a minute or two a day. You want to always be trying to get that smooth, relaxed feeling. Over time, you can take a tennis ball or two out so that you're using less tennis balls. That makes it a little more difficult because the tool won't have quite as much weight to it. But you'll still get the effect.
If you use this tool for a minute or two a day, you'll find that you can take that feeling with you out onto court and use it when you're holding your tennis racket. And I recommend that after a week or two after using this tool, you try substituting your racket in and going through that same motion. Again, it may not completely duplicate your actual service motion but what you are going for is that smooth, fluid feeling.
Warning! Don't Hit Anything or Anyone!
And just a warning - with both the tube sock tool and your racket, be careful if you're doing this in your house. Don't hit a lamp or knock something over or hit someone else. If you're going to use either the tool or your racket in the house, just be careful.
RESOURCES AND LINKS FROM THIS EPISODE
Check out the other episodes in the Simple Serve Tips series:
SHARE, SUBSCRIBE AND REVIEW
If you want to make sure you never miss an episode, it's easy to subscribe! Just click on one of the buttons below: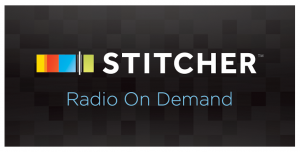 You can also get the direct RSS feed for your own favorite RSS Podcast Player by clicking here: Tennis Quick Tips Podcast RSS Feed.
And if you'd like to become a friend of the show, please leave an honest review on iTunes by clicking here: Tennis Quick Tips Podcast iTunes Page. It will help the show become more easily discovered by like-minded, awesome people just like you. I appreciate it!
Looking for a specific episode? All of the Tennis Quick Tips podcast episodes are listed on the Tennis Quick Tips Podcast page. Just click here to find what you're looking for: Tennis Quick Tips Podcast.
BUILD YOUR TENNIS FITNESS AND ENDURANCE
If you're really interested in building your endurance and fitness for tennis, I know you'll like my very first tennis mini-course, Simple Endurance Training for Tennis. For more information or to join the course, just click on the image below or visit: http://tennisfixation.com/endurance.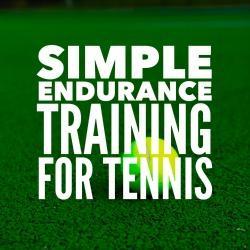 GET A BETTER SERVE FAST!
And if you're interested in getting a better serve - fast! - get my free ebook, 10 Quick Fixes to Improve Your Serve: No Lessons Required.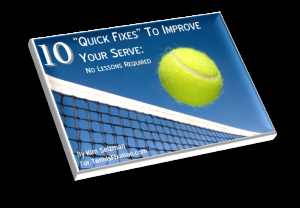 By applying the 10 simple tips to your serve that I give in this ebook, your serve can become a tool that you can use to gain control of points. It can become more powerful, more accurate, and something you're actually proud of. Just enter your email below and you'll get instant access to this free ebook as well as weekly updates with all of my best tennis tips!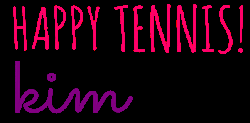 © Kim Selzman 2016 All Rights Reserved