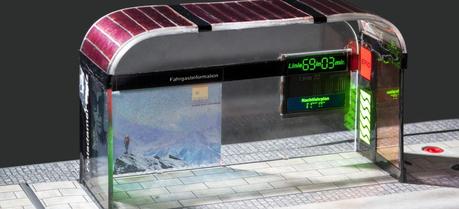 Organic light-emitting diodes (OLEDs) — here at the bus stop of the future — will soon come out of printing machines. (Credit: Fraunhofer IAP / Till Budde)
Researchers at the Fraunhofer Institute for Applied Polymer Research (IAP), Germany, worked together with mechanical engineering company MBRAUN to develop a production facility able to create inexpensive organic light-emitting diodes (OLEDs) as well as organic solar cells on an industrial scale.
Is now possible to print OLEDs and solar cells from solutions containing luminescent organic molecules and absorptive molecules respectively, which makes printing them onto a carrier film very straightforward. Usually, to print OLEDs you need to vaporize small molecules in a high vacuum, making it a very expensive process.
Scientists had previously only ever used various printing technologies to design components on a laboratory scale. They can now produce larger sample series—and this is particularly advantageous for the applications that the IAP has in mind, as large illuminated surfaces and information systems require tailored solutions produced in relatively small numbers. "We're now able to produce organic components under close-to-real-life manufacturing conditions with relative ease. Now for the first time it will be possible to translate new ideas into commercial products," says Dr. Armin Wedel, head of division at the Fraunhofer Institute for Applied Polymer Research in Potsdam-Golm.
At the heart of the pilot plant is a robot that controls different printers that basically act like an inkjet printing system. OLEDs are applied to the carrier material one layer at a time using a variety of starting materials. This produces a very homogenous surface that creates a perfect lighting layer. "We're able to service upscale niche markets by offering tailored solutions, as we can apply the organic electronic system to customers' specifications, just like in digital printing," explains Wedel.
Industry experts estimate that printed OLEDs hold out the promise of becoming a billion-dollar market. "The focus in Germany and Europe is on OLED lighting because this is the home market for large companies such as Osram and Philips," explains Wedel. "The manufacturing facility will help secure competitive advantages in this particular segment of the market. It strengthens the German research community, and also demonstrates the capabilities of German plant engineering," says Dr. Martin Reinelt, CEO of MBRAUN in Garching.
There are still several challenges to be met before OLEDs become firmly established on the market. "The main hurdle, as far as I'm concerned, is the high level of investment required to set up manufacturing," says Wedel. This is why, at least where lighting is concerned, he expects OLEDs to complement rather than replace conventional lighting devices. His view of where OLED production technology could head is less modest: "My vision is that the day will come when all we need do is switch ink cartridges in our printers in order to print out our own lighting devices."