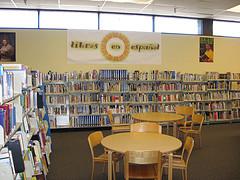 by San Mateo County Library via Flickr
The most typical yet so far the utmost effective way to acquire Spanish language is to actually let learners learn Spanish at language school. Yes, it is effective because the classroom setting of the school makes the learning absorbable. There is really a huge difference when the learner embraces to a classroom setting. They will really learn.
And no matter how young or old you are a learner, when the kind of Spanish course you will be taking is the basic one, you will really undergo the Spanish language's basics: from numbers, to common phrases, to simple terms, and subject-verb agreements. You will even be tackling few Spanish literary works to enhance such knowledge. This makes the same learning process when one is learning English, even when one wants to study English abroad. If English will touch the literature and grammar aspects of the language, so does Spanish.
And speaking of literature, poems are good examples of enhancing one's skills in Spanish learning. Would you like some samples? Here are some I have collected.
The following poems are specifically for body parts with Spanish terms. Very basic, isn't it? Well, let's try your comprehensive skills.
Word for Word translation:
Ésta es mi cabeza
Ésta es mi cabeza
como una pelota.
Tengo dos orejas
nariz y una boca.
Con estos dos ojos,
yo puedo mirar
las cosas bonitas
de este lugar.
This is my head
This is my head,
like a ball.
I have two ears,
a nose and a mouth.
With these two eyes,
I can see
the pretty things
of this place.
Los sentidosCon mis ojos veo,
con mis orejas oigo,
con mi boca hablo,
con mi nariz huelo.
¿Y con mis manitas?
Lo toco ¡todo,todo,todo!
My Senses
With my eyes I see,
with my ears I hear,
with my mouth I talk,
with my nose I smell.
And with my hands?
I touch everything, everything, everything.
La caraEn mi cara redondita,
tengo ojos y nariz,
y también tengo una boca
para charlar y reir.
Con los ojos veo todo
y con la nariz hago ¡atchiss!
y con la boca yo como
¡Palomitas de maíz!
My Face
On my round face,
I have eyes and a nose,
and I also have a mouth
to talk and laugh.
With my eyes I see everything
and with my nose I go achoo!
And with my mouth I eat
popcorn!
So, do you find the enlisted articles above very helpful in your Spanish learning? I hope it does. May the poems above give you additional notes to assist you with your learning! Good luck!