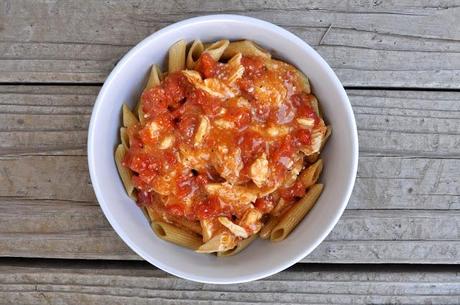 When I say simple, I mean simple.
This chicken recipe has to be the easiest dinner recipe I have ever posted. There are 5 ingredients. No prep. Ryan didn't come home until after midnight the day I made this - I just kept it warm in the crockpot until he arrived.
It is really delicious and makes for excellent leftovers as well.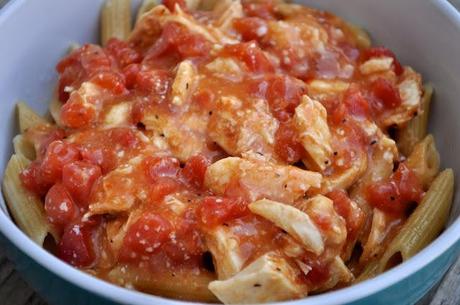 Simple Cheesy Italian Chicken
serves 3-4
Ingredients
2 frozen chicken breasts
1 can Healthy Request condensed cheddar cheese soup
1 can diced tomatoes
1 packet italian dressing mix
1/4 cup parmesan cheese
Instructions
1. Spray crockpot with cooking spray. Place frozen chicken breasts in the bottom of the crockpot.
2. In a bowl, mix together the cheddar cheese soup, tomatoes and dressing packet. Pour over the chicken.
3. Cover the crockpot and cook on low for 5-6 hours. Remove chicken and cut into small cubes. Return the chicken to the sauce and add in the parmesan cheese. Stir to mix well.
4. Keep warm in the crockpot until ready to serve. Serve over whole wheat penne or your choice of pasta.
Check out one of the sweetest ladies I know: