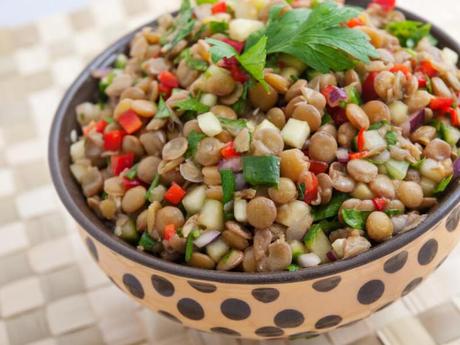 Alright guys, this is what I like to call my emergency, super-fast, there's-nothing-in-the-fridge-to-eat dinner. This weekend I literally had like 20 minutes to come up with a dish for dinner, and this is what I made!
I looked in our fridge and we had: cucumbers, red onions, tomatoes, parsley, steamed lentils, feta cheese, peppers, and corn.
So I decided that everything in our fridge was going into a salad!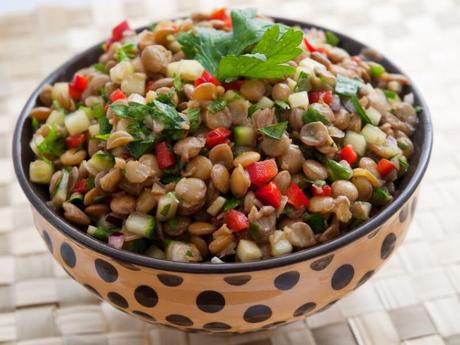 Full disclosure: I took these pictures before I added all of the ingredients in, because that's how haphazard my cooking process was this weekend 🙂
So you won't see the corn or the feta here, but it was part of our salad and I'd highly recommend adding it in because it tasted delicious!
This is so easy to make, it literally takes 20 minutes. It's kid friendly and crowd friendly too - everyone loved this salad including Layla, who had leftovers the next day for dinner too!
Ingredients
1 16oz package steamed lentils, like the kind from Trader Joe's
1 english cucumber, diced
1 box of grape tomatoes, sliced thin
1/2 red onion, diced
1/2 cup of fresh or steamed corn
1/2 red or yellow pepper, diced (you could use the whole pepper if you want too!)
4oz Feta Cheese Crumbles
Lemon juice, salt and pepper to taste (use these liberally to get the flavor you want in the salad!)
Directions
Combine all ingredients in a bowl. Toss and season to taste.
Enjoy!
http://pickyeaterblog.com/simple-and-fast-lentil-and-feta-salad/