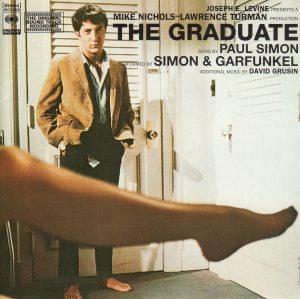 No discussion of The Graduate would be complete without talking about its soundtrack. If I were to rank my favorite movie soundtracks, The Graduate would come in at number two on that list, second to 1994′s Dazed and Confused. It's not that I'm a big Simon and Garfunkel fan (I don't dislike Simon and Garfunkel, either, though), but it's a perfect example of the right songs being used in exactly the right way.  Simon and Garfunkel's style was so wistful, gentle, and perfectly fit the sense of longing that plays so heavily in The Graduate.
Although it's now hard to imagine The Graduate without songs like "The Sound of Silence" and "Mrs. Robinson," it's interesting to note that neither of those songs were originally intended to be used in the movie. Mike Nichols, director of The Graduate, was a big fan of Simon and Garfunkel and the producer, Larry Turman, had arranged for Paul Simon to write three new songs for the film. "The Sound of Silence" was not one of those songs, although it sets the tone for the movie so perfectly it's easy to forget that it wasn't written with the movie in mind. In fact, "The Sound of Silence" had been released two years prior to the release of The Graduate.  "The Sound of Silence" was just meant to be a temporary placeholder during the editing process, but Mike Nichols later decided the song was a perfect fit for the film and decided to leave it in.
When Mike Nichols met with Paul Simon to hear the songs he had written for The Graduate, he was disappointed to find out Paul Simon had only written one song, not three. At the time, Simon and Garfunkel were touring extensively and Simon simply hadn't had the time to do more. The only other thing Paul Simon had to play for Mike Nichols was a little bit of a song he had been working on that wasn't for the film. So Paul Simon played a little bit of a song that talked about Mrs. Roosevelt. Nichols told Simon, "It's now about Mrs. Robinson, not Mrs. Roosevelt," and a hit song was born. Only an early version of the chorus is heard in the movie and on the soundtrack album; the most popular version of the song was featured on Simon and Garfunkel's "Bookends" album, released in 1968.