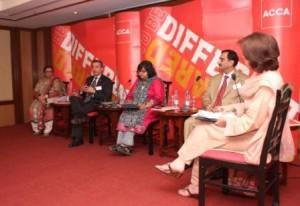 On stage at the ACCA-Pakistan/IFC debate on women in the boardroom. (Photo: CIPE)
Fifty-one percent of Pakistan's population is female, but only 3 percent of women in Pakistan are economically active. The recent World Economic Forum's Global Gender Gap Report ranked Pakistan 132 out of 134 countries, down from 127 the year before.
One of the biggest challenges faced by the country is the low literacy rate especially for girls, compounded by a high school dropout rate. According to the Population Census the current female literacy stands at 36 percent. Astonishingly, starting at 33 percent enrolment at the primary level, only 6.59 percent enroll at the secondary level, and only 1.2 percent at the University Degree level.
Such sparse participation reduces the chances of females emerging in leadership roles both in the political structure as well as in businesses. Therefore, in Pakistan there are only a handful of professional women serving on corporate boards.
In partnership with the International Finance Corporation (IFC), the Association of Chartered Certified Accountants Pakistan (ACCA-Pakistan), the largest accounting body in the country, organized a debate focused on gender diversity on corporate boards. Dr Afra Sajjad, ACCA-Pakistan head of education and policy development, presented a research report on the subject.
Sajjad said that ACCA-Pakistan surveyed 303 publicly listed companies on Karachi Stock Exchange, of which, 31 percent or 93 companies had women on boards. Of that 57 companies were family owned where one or more family members together own more than 51 percent of shares.
The reports, however, revealed that despite women being on the board family businesses do not encourage women to actively participate in board decisions.
The ACCA/IFC debate focused on how to facilitate the process of bringing more women on corporate board. It was agreed that even the most enterprising professional women in Pakistan do not have the network within the corporate world, hence there is need for developing a platform to provide networking opportunities at an appropriate level.
Participants were also of the view that institutional efforts will be required to develop a database of prospecting women board members including conducting training programs. A smaller group was in favor of a legislation to compel listed companies to have a certain percentage of gender diversity on their board. Another view was to follow the natural process of talent cultivation and recognition.
Hammad Siddiqui, Senior Program Manager, CIPE-Pakistan shared CIPE's experience of reforming the 2006 Trade Ordinance, which now requires at least two women board members on chamber boards across Pakistan.
ACCA aims to continue this debate and the next one is scheduled for the first week of June in Islamabad.