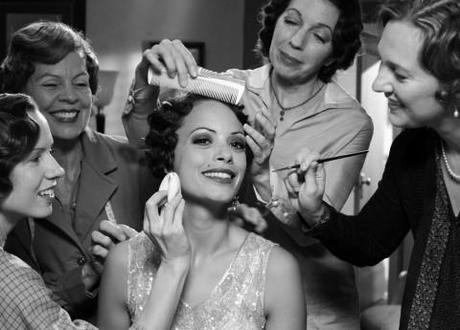 The Artist. Photo credit: Getty Images, Weinstein Company
Films don't get much more retro than
The Artist
, a black and white, mostly silent film directed by Michel Hazanavicius and starring Jean Dujardin, a major French actor of the lowbrow comedy genre, and a host of minor American stars. But if the Academy is as bowled over as the critics are,
The Artist
is sure to clean up at the Oscars.
The Artist rehashes some familiar territory, though it's apt to be mostly familiar to hardcore film buffs: A silent film star, George Valentin (Dujardin, who won best actor at Cannes in May for the role), is on top of the world, living a golden Hollywood idyll with his co-star wife (Penelope Ann Miller, Kindergarten Cop) and his dog. His carefree narcissist happiness is shattered, however, first when he falls in love with up-and-coming starlet Peppy Miller (Bérénice Bejo), and then again when he refuses to change with the times and embrace the talkies.
Most critics are at the vey least charmed by The Artist and its exuberant resurrection of a long dead Hollywood and some critics are already touting it as a potential Oscar contender, after it won best film from the New York Film Critics Circle on Tuesday. Still, there are always a few naysayers and The Artist hasn't managed to win over everyone just yet; moreover, the last time a silent film took the top prize at the Academy Awards was in 1929.
'Flawless'. Mark Rabinowitz, reviewing for CNN, was certainly taken with The Artist, proclaiming it "flawless": "There is literally nothing wrong with it. I don't have a single nit to pick, minor flaw to point out or little bit that annoyed me. It is pure magic from the first frame to the last. It is proof that to be moving, engaging, enthralling and fun, movies have no need for sex or violence, color or even spoken dialog, for that matter."
The 'wonder of the age'. Kenneth Turan, writing at The Los Angeles Times, was nearly as effusive in his praise, calling The Artist "a glorious throwback" that manages the "impossible": "It strikes an exact balance between the traditions of the past and the demands of the present, managing to be true to the look and spirit of bygone times while creating the most modern kind of witty and entertaining fun. Look on this work, ye mighty of Hollywood, and rejoice."
'Unbridled movie love'. A "dazzling cinematic objet d'art", The Artist is "a generous, touching and slightly daffy expression of unbridled movie love" that ultimately, however, doesn't have much to say, determined AO Scott at The New York Times – not that it needs to. Hazanavicius "evokes the glamour and strangeness of silent movies without entirely capturing the full range of their power", but the film is ultimately winning. "It may be something less than a great movie, but it is an irresistible reminder of nearly everything that makes the movies great."
'An unthinking hodgepodge'. Slant's Jamie Christley – who also panned My Week With Marilyn – had very little love for The Artist. The film, he complained, glossed over much of the complexities of early Hollywood, "ignoring everything that's fascinating and memorable about the era, focusing instead on a patchwork of general knowledge, so eroded of inconvenient facts that it doesn't even qualify as a roman à clef." Christley, who also used the opportunity to show his own evidently exhaustive knowledge of cinema history, accused the film of being "defined by a lazy, to the point of contemptuous, attitude toward said subjects", though he did laud director Hazanavicius's skill as a"shooter".
More in reviews

Deep Blue Sea – best pub singalongs on film
Martin Scorsese's Hugo is perfect Thanksgiving fare
My Week With Marilyn
Streep earns raves for Iron Lady
Snowtown is harsh but brilliant
More film »