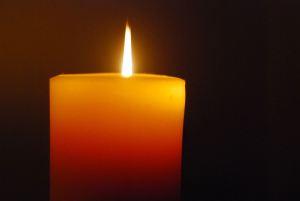 I am a school teacher.  I have three children of my own, one in kindergarten.  I have been in several different lock-downs, where all students are locked into a classroom with the teacher until the police say it is safe to come out.  I've held my classroom door open while frightened high school students scurry in, and dive under tables and desks.  Everyone huddles on the floor with the lights out.  We silently wait and worry.
When I think of the elementary school shooting in Newtown, Connecticut, I can imagine what those teachers faced.  And, truthfully, I really have no idea at all.
On Friday afternoon Hubby picked me up from work.  We had talked about visiting a shopping mall and eating a fun and very unhealthy dinner in the food court.  We could walk around, look at Christmas decorations and maybe even get the kids' photo done with Santa.
When I got into the van all three kids were waiting for me, and I fussed with my five year old's jacket.  I was worried he would overheat.  Hubby said, "Let's not go anywhere, let's just get a pizza for dinner and go home."
I didn't think anything of it, and chatted about my day as we drove in the van.  When we pulled up to the pizza place Hubby turned to me and whispered, "Don't turn on the radio – there was something in the news today.  They're repeating it over and over; it had to do with a school in the states."
I guessed what kind of news it was and turned on a children's CD for the kids to listen to while Hubby picked up the pizza.  I turned on my phone and glanced at the news headlines.  The rest of the evening I kept all internet use to a minimum as I piled my children onto the sofa so we could watch a movie together.  I held them tight.
I haven't told my son about it, but, amazingly he picks things out of the ether and was asking about guns.  I said they are bad, even the toy ones.  End of discussion.
I still cannot read any real details about the story.  It is too painful.
There's been some discussion in the media about gun control – I simply cannot follow it.  This situation is too raw, too new and, honestly, it's too late.  It is too painful to trivialise with political rhetoric about 'what if's and different agendas regarding constitutional rights.  Those teachers and children had a right to live.  That's the bottom line.
When I think of the shooting, I am not shocked.  I am very sad; I ache for those families, the children and the teachers.  The thought of a custodian running through the halls, yelling a warning to the rest of the school, brings tears to my eyes.
I cannot imagine what the victims went through.  I cannot imagine what those families must face as the Christmas holiday approaches.
All I can do is pray for them all, and hold my own children a little tighter.