Blogging Marathon# 39 - Indian States: Day 25
State: Sikkim 
Dish: Vegetarian Momos
Sikkim is a state in northeastern India located in the Himalayan mountains. The state is bordered by Nepal to the west, Tibet to the north and east, Bhutan to the east and West Bengal to the south. Sikkim is the least populous state in India and it is the only state with an ethic Nepali majority.
Because of the close proximity to Nepal and Tibet, Sikkim cuisine is highly infuenced by both of those cuisines. Sikkimese are traditionally rice eaters. Meat and dairy products are also consumed depending on the availability. Besides these, various traditional fermented foods and beverages, which constitute about 20% of the basic diet. Depending on the altitudinal variation; finger millet, wheat, buckwheat, barley, vegetables, potato, soybeans etc., are grown.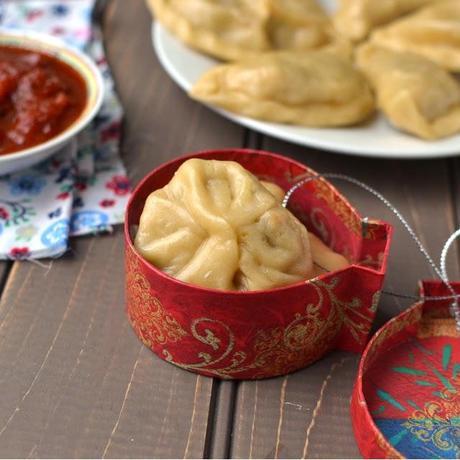 Today's Dish
:
Momos
are a type of dumplings that are native to Nepal and some parts of Tibet. Because of the large Nepalese population in Sikkim, it seemed fitting to make momos for today. Traditionally, momos are prepared with ground meat filling. In Sikkim, meat and cheese fillings are more famous.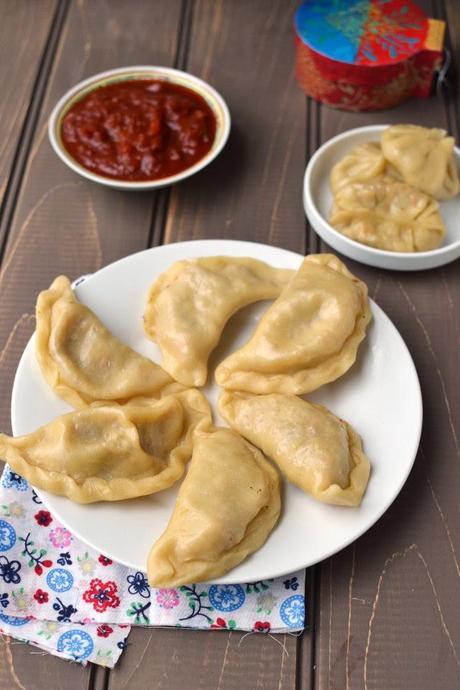 Today I made a veggie filled momo. I used the same filling with tofu, broccoli, cabbage etc., that I used for the wontons here. Shaping them was a little tricky and mine didn't turn out too good looking, but they tasted yummy anyway. I was surprised when my super picky son also liked these momos.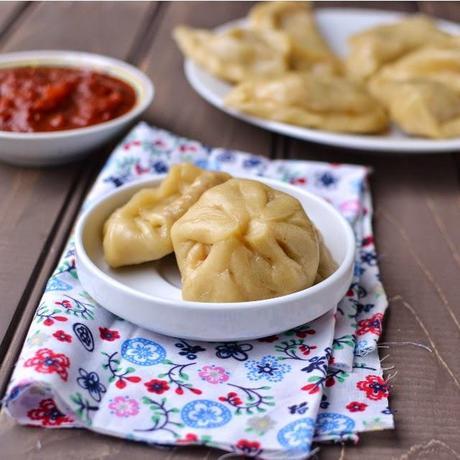 Ingredients
:
For the Wrapper
: 
Adapted from Rak's Kitchen.
All purpose flour - 1cup
Oil - 2tsp
Salt - to taste
For the Filling:
Veggies - 1 cup of your choice, I used cabbage, carrot, broccoli and red pepper (cauliflower, beans, celery will taste good as well) Tofu - 
¼cup, crumbled
Green chili - 1, finely chopped
Garlic - 2 cloves, crushed
Ginger - 1" piece, grated
Sesame oil - 1tsp
Salt - to taste
Method
:
Make the Dough for the Wrapper: Combine flour, salt and oil in a mixing bowl. Add enough water and knead into a smooth pliable dough. Cover and set aside to rest.
Make the filling: Finely chop/ mince the veggies using a food processor or mini-blender. Heat oil in a saute pan, add the ginger, garlic and green chilies and cook for 30 seconds or until fragrant. Next add the veggies and cook on high heat until the veggies are tender, about 6-8 minutes.
Add crumbled tofu and salt. Cook for 1 minute. Remove from heat and let the mixture cool completely.
Make Momos: Roll the dough out into a big circle. Using a small round bowl (katori), punch out 3" diameter discs. Place 2tsp of filling on each disc and fold the dough to encase the filling completely. You can get fancy and try the various folding and pleating techniques to make momos. I kept them simple because that is how technical I could get with them. 
Cook Momos: Place the prepared momos on a greased plate and steam them for 5~7 minutes or until the wrapper is opaque and cooked through.
Serve with dipping sauce.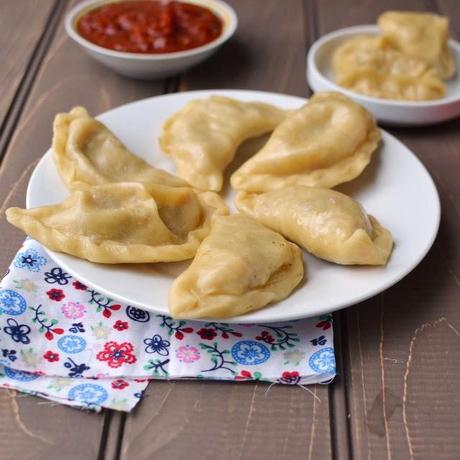 I found the recipe for
dipping sauce
on
Nisha's blog
and it tasted awesome with the momos.
Ingredients
: Tomato - 3tbsp, diced or chopped Red onion - 3tbsp, finely chopped Dry red chili - 3 (adjust as per taste) Cilantro - 1tbsp, finely chopped Tomato ketchup - 2tsp Ground cumin - a pinch (optional) Soy sauce - 1tsp (adjust as per taste) Salt - to taste
Method
:
Heat 2tsp oil in a saucepan; add the onions and red chilies. Cook until onions start to turn light brown.
Add the tomatoes, ground cumin, soy sauce and salt. Cook on medium heat till the oil starts to separate around the edges.
Add the tomato ketchup and cilantro leaves; mix well and cook for 1~2 minutes.
Turn the heat off and let cool a little bit. If you want, use an immersion blender to get a smooth texture.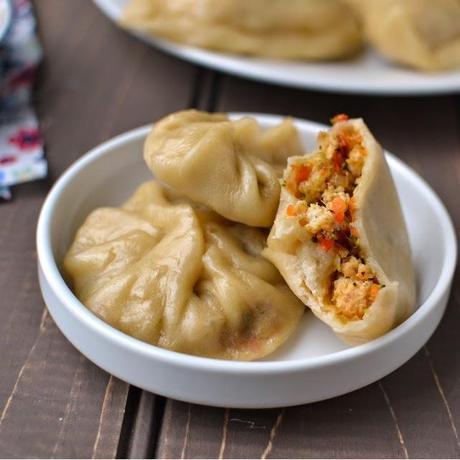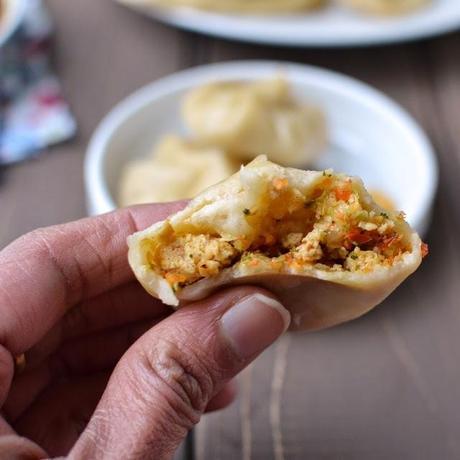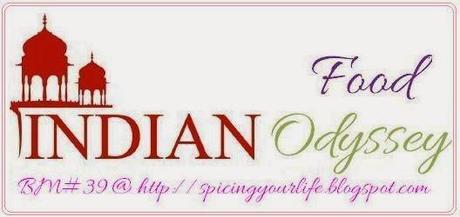 Lets check out what my fellow marathoners have cooked today for 
BM# 39
.

An InLinkz Link-up