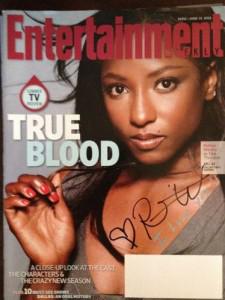 More True Blood memorabilia has been put up to support Kristin Bauer van Straten's (Pamela Sywnford de Beaufort) documentary Out for Africa! This time a signed Entertainment Weekly cover featuring Rutina Wesley (Tara Thorton) is up for bids. This is a limited edition of Entertainment Weekly, one of 12 covers featuring the main True Blood cast released just before the season 5 premiere.
Rutina signed the cover of the magazine and then added the words "I love you" with a heart.
The auction, which was launched today, will also include a personalized signed photo of Kristin as Pam. It is slated to end September 16th and joins several other signed items also being auctioned off to support Kristin's anti-ivory poaching documentary, currently being shot in Kenya.
Place your bids here!
Source: eBay.com- "LIMITED COLLECTORS EDITION ENTERTAINMENT WEEKLY signed by Rutina Wesley"
Image Credit: Out for Africa