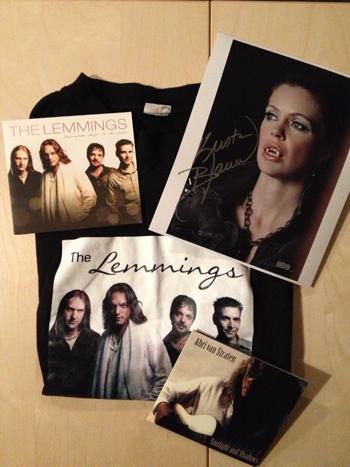 If you missed out on the last round of auctions to support Kristin Bauer van Straten's (Pamela Swynford de Beaufort) anti-poaching documentary Out for Africa, a new set of auctions has launched just in time for Valentine's Day!
The first item up for grabs is a signed Entertainment Weekly Magazine featuring Kristin on the cover. As you might recall, Entertainment Weekly did a set of 12 different covers featuring a principal cast member in June of 2012 ahead of the show's fifth season. It will be personalized with the winner's name. The bidding begins at $175.00 and will close on February 9, 2013 just after 2PM PST. Place your bids here.
The second item up for bid is a Lemmings package featuring a t-shirt and CD of Abri van Straten's band the Lemmings. Also included is a copy of his solo album Sunlight and Shadows and a signed photo of Kristin. Everything will be signed by Kristin and Abri with the option of having everything personalized. The listing will close just before 10am PST on February 10, 2013. Place your bids here. 
Other items available for purchase include signed "Are You Picking Up What I'm Putting Down?" shirts in sizes medium and large only for $75 and prints of the painting Kristin did of Stephen Moyer (Bill Compton) with a signed photo of Kristin for $125.00 each. These are Buy It Now Listings and can be found by clicking on the source link.
To learn more about Out for Africa, visit the documentary website here or check out our coverage.
Source: eBay.com- " Items for Sale"
Image Credits: Out for Africa