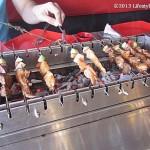 Have you heard of Bar-B-Skew? It's the Philippines' first and only BBQ skewer buffet restaurant, and its most notable feature is its unique automatic grilling system that evenly cooks your choice of street food! First heard of it online when someone liked it and yeah, one of their Facebook
timeline photos appeared on my feed. An isaw (animal innards) lover myself (though I'm more into the pork variety), I could not resist sharing the same photo with my older brother and convincing him to try it out with me sometime!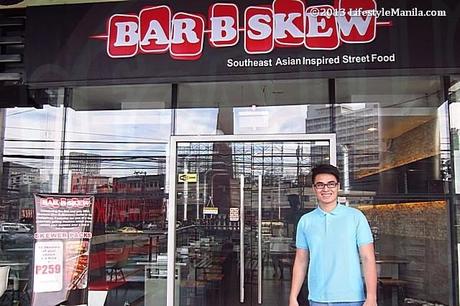 Anyway I finally got the chance to try it out yesterday, because luckily my youngest brother Erick was willing to have his ass dragged somewhere. (Also, it helped that he liked grilled foods as much as I did!)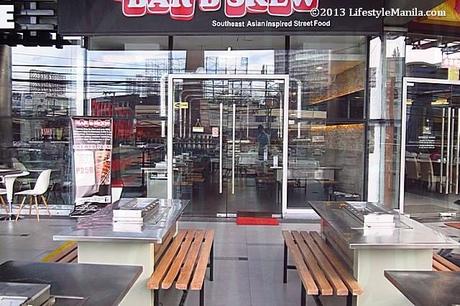 Lunch Buffet starts at 11 AM and can set you back by Php299 for a 90 minute date with Bar-B-Q's automatic grilling station. The time starts as soon as the hot charcoals hit the grill, so you might want to have a plate of skewers ready on your table right away. The restaurant has just opened two weeks ago, so their selection of skewers are still limited. But they already have Filipino favorites like isaw manok (chicken intestines), isaw baboy (pork intestines), atay (liver), hotdog, fish and corn. And I hear they're already planning on adding squid and shrimp to the menu!
Dinner is more expensive, but the resto does offer affordable meals that start at Php 139, so people can still stay within their weekly budget. And there's also this Php29/skewer penalty for buffet customers, so to err on the safe side, the affordable meals might be a much better choice!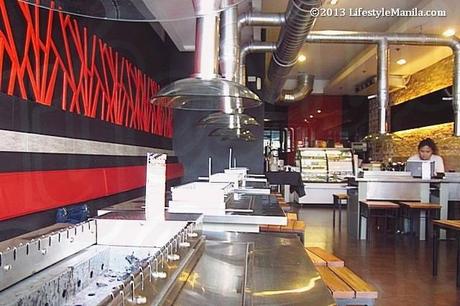 The grilling stations wooo!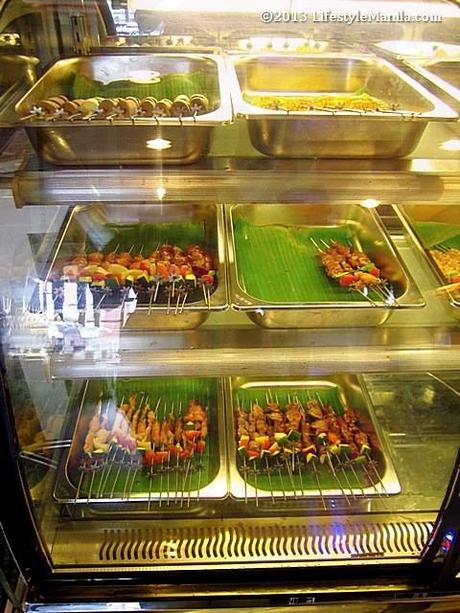 The buffet counter keeps skewers fresh!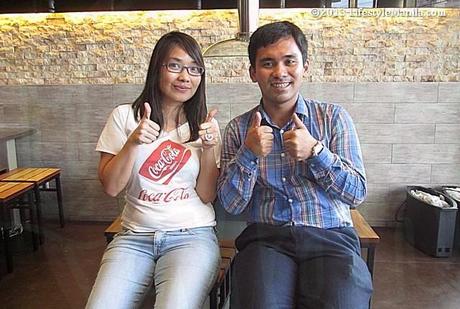 Here I am with one of the owners, Mr. Wero Doma Jr.
I was lucky enough to chat with the owners Wero Doma Jr. and Jack Ko for a bit while Erick and I were there. Told them the chicken liver and pork sisig were good (they're my favorites there!) I also expressed my concern with the limited space at the table, but that's just me nitpicking. Surely the average Filipino will have so much fun grilling their own food that they won't mind knocking elbows (and even grabbing someone else's skewer) with their good friends. Indeed, each grilling station is designed for an optimum social dining experience!
You may ask, "So how does the grilling thing work, exactly?" Thankfully I've got enough time to prepare a simple step-by-step guide to help you undertake this novel dining experience! Check them out below.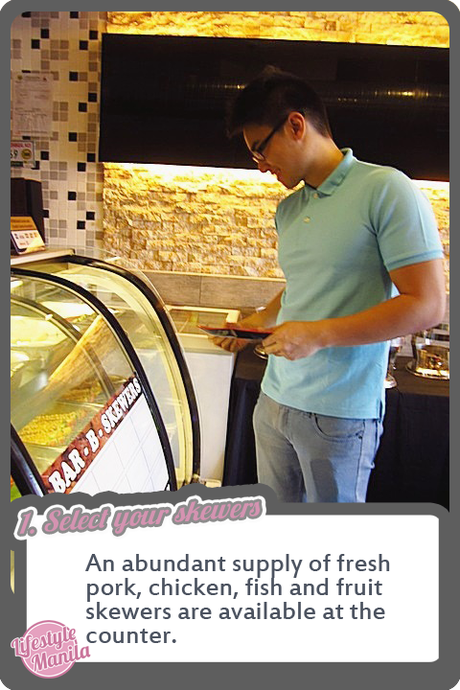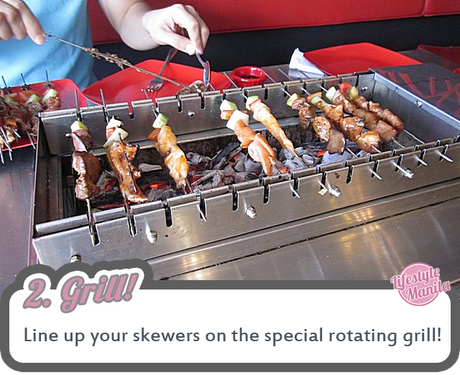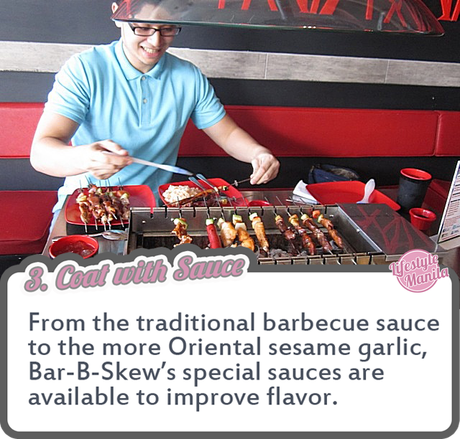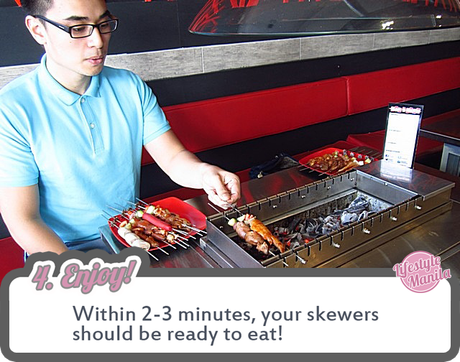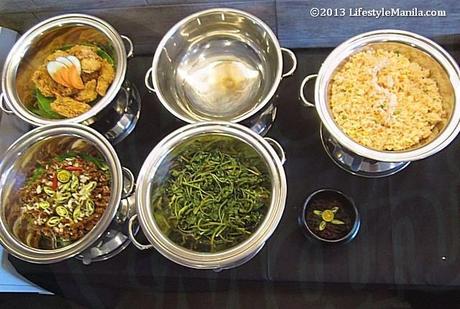 Choosing the buffet option not only allows you unlimited access to the skewer counter, but also gives you a chance to try delicious Filipino dishes like pork sisig, fried rice, kangkong and fried chicken!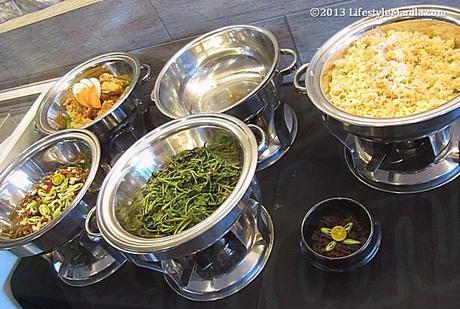 And honestly Bar-B-Skew's pork sisig is perfect with a bottle of San Mig Light (that the restaurant offers as well).
Here's the menu as of October 30, 2013: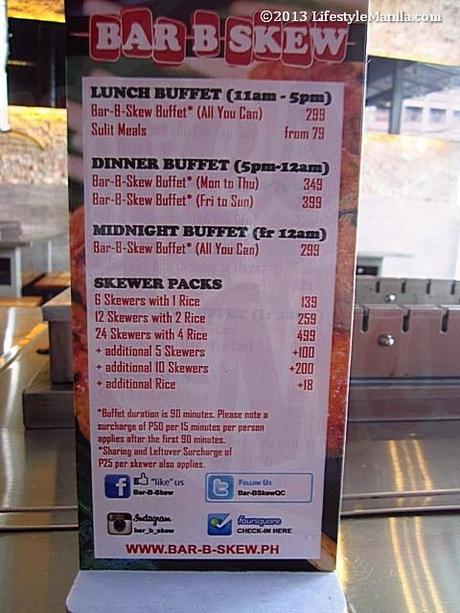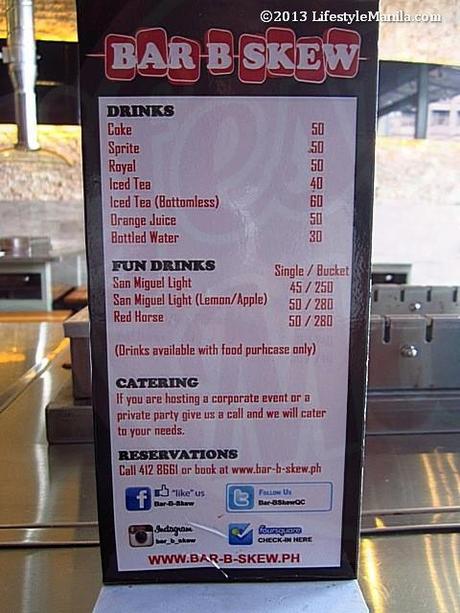 Contact them for reservations!
Rating:
Four out of five stars
Price:
Php 200 – 400 per person
Location:
UG03 CTTM Square 68 Timog Ave Cnr Tomas Morato
Operating hours:
Mon - Sun 11:00 AM - 2:00 AM
Bar-B-Skew Website