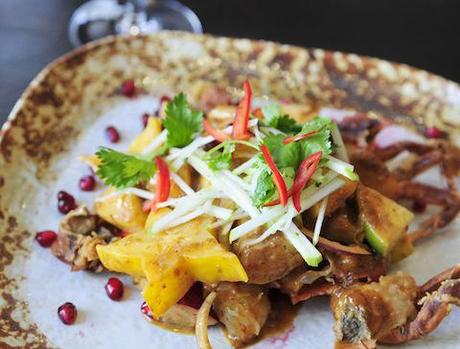 Where
@Siam
48 Frith Street, W1D 4SF
0207 494 4511
What
Ruam Mittr (mixed appetizer plate for 2) – £13.95
This came with corn fritters, chicken satay, pomelo and prawn salad, spring rolls and a Dokk Jokk basket (a flower shaped mould used with sweet and savoury batter).
The star on the plate were the corn fritters with red curry batter and an aromatic syrup; a moreish combination of crispness with the chew from the corn and sweetness from the syrup.
The satay was excellent and a refined version of skewers with gloopy sauce. These were generous portions of moist marinated breast with an almost dry satay coating.
The spring rolls and Dokk Jokk basket were not as impressive. The rolls were long and thin and more like breadsticks so the sparse filling was lost and the basket was more of the same fried flavour.
The pomelo salad with prawns was a welcome cleanser from the fried foods served in bite-size lettuce leaves and a delicious and fresh combination of sweet and sour.
Overall it was a generous starter with a interesting mix of dishes at a reasonable price.
Goong Mayonnaise (prawn tempura with mayo) – £6.95
What made this dish stand apart from other prawn tempura was the Thai touch of a sweet honey glaze. The honey cut through the mayonnaise and balanced the salt in the batter making this simple touch definitely worth trying.
Gang Phed Pad Yang (duck red curry) – £11.95
The red curry was very mild and the addition of lychees, pineapple and grapes took the spice down even further. The result was very tender slices of duck breast in a creamy fruity sauce. The sauce was delicious soaked up in the rice but if you do not like overly fruity curry do avoid however for a delicate take on a duck dish this worked well.
Poo Nim Kra Taem Prik Thai (soft shell crab) – £10.95
The soft shell crab was big and spiky and crunchy and coated in a lip-tingling garlic and zingy pepper sauce with refreshing garnish slices of starfruit. Although the portion was big we still fought for the last piece.
Salad Goong Lai Suea (tiger prawn salad) – £12.95
The huge tiger prawns were the main course favourite. Slashed and grilled they were upturned and drizzled with a Thai pesto sauce; a delicious punchy green citrus dressing.
Steamed Jasmine Rice – £2.50
A generous portion of hot fluffy steaming rice.
Drink
Prosecco – £25.95
Tap water – free
Atmosphere
We visited at 9pm on Saturday and being right in the middle of Soho it was as busy and buzzing as you would expect. The crowds were mainly groups with some big tables sharing lots of dishes. The dining room decor is a modern Thai mix of purple, brown and gold with minimal fixtures, fittings and crockery. It is as bright as the Soho lights outside which is slightly intense but suits the atmosphere in and out of the restaurant. The service is very good with lots of staff and the layout of the room means you would never struggle on catching someones eye.
Offers
Lunch menu for £8.95
Pre-theatre menu for £12.96
Current Toptable offer of 25% off food bill
Verdict
GO! GO!
A great option for eating some interesting and modern Thai dishes and we would definitely return to try more of the unusual menu options. Large portions and dishes suited for sharing means this can be an affordable option in the west end where you are guaranteed greater quality than the majority of nearby Chinatown.
Neon were guests of @Siam