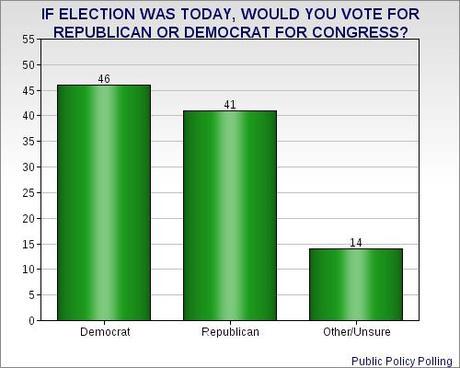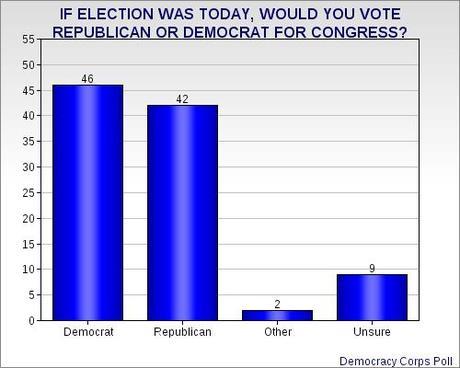 The Republicans' ultra-right policies leading to a shutdown of the government (and a possible government default in just a few days) are hurting the Republican Party. They had hoped to come out of this mess looking like budget heroes, but just the opposite is happening. They are being blamed for the shutdown, and their reluctance to even have a vote on a continuing resolution is damaging the party's brand.
In fact, there are a couple of new polls out that agree on one thing -- that the Republicans could lose control of the House of Representatives if they continue down the road of shutdown and/or default. Just a couple of months ago, both Public Policy Polling and Democracy Corps showed that elections in congressional districts were either very close, or leaned toward the Republican Party. That is no longer true. As the two charts above show, voters are now leaning toward the Democratic Party.
The Republicans did some pretty effective gerrymandering in 2010, and that will undoubtably protect most of the House Republicans. But they do not all have safe seats. There are 24 competitive seats currently held by Republicans -- and the Democrats just need 17 of them to flip the House. And if the election was held today, there is a very good chance that would happen.
The Republicans have some fences to mend if they are going to keep control of the House, but they can't even start to mend those fences as long as the shutdown continues (or the nation goes into default). Here are some more charts showing the GOP's dilemma: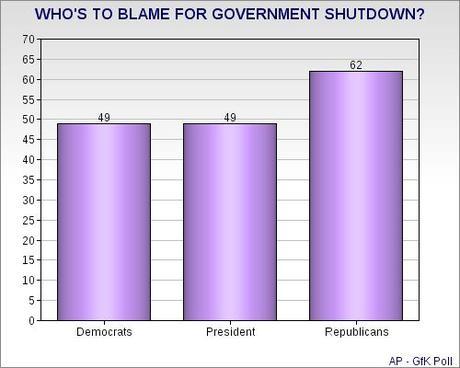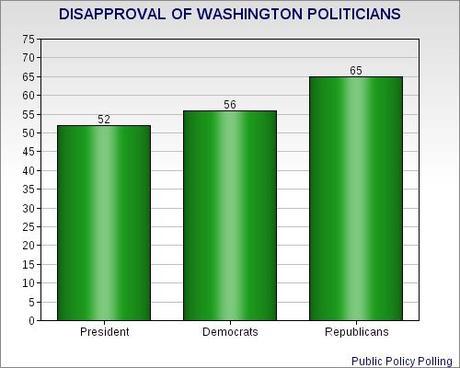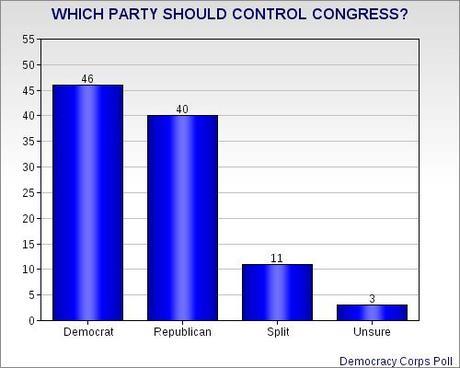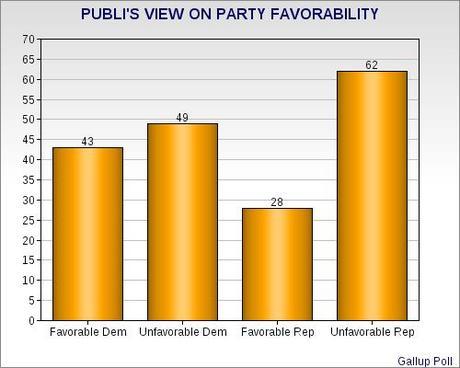 The AP-GfK Poll was conducted between October 3rd and 7th of 1,227 nationwide adults (with a 3.4 point margin of error).
The Gallup Poll was conducted between October 3rd and 6th of 1,028 nationwide adults (with a 4 point margin of error).
The survey of Public Policy Polling was conducted between October 4th and 6th of 1,000 nationwide voters (with a 3.1 point margin of error).
The Democracy Corps Poll was conducted between October 6th and 8th of 950 nationwide adults (margin of error unknown).