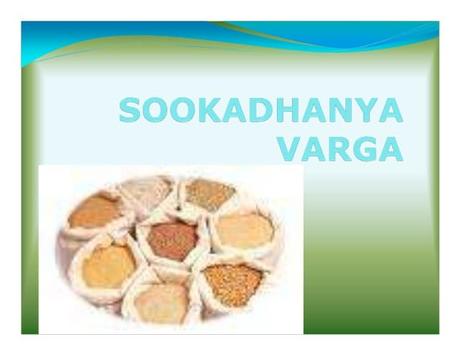 SHUKA DHANYA VARGA (GROUP OF CORNS WITH SPIKES)
TYPES OF RICE
Rakta (red)
Mahan (big sized rice)
Kalama
Turnaka
Shakunahruta
Saaramukha
Deerghashuka (having long sharp spike at the ends)
Sugandhika (having good smell)
Rodhrashuka
Pundra
 Pandu
 Pundarika
Pramoda
Gaura (white rice)
Sariva
Kanchana (golden colored rice)
Mahisha
Shuka
Dushaka
 Kusumandaka
 Langala Lohavala
Kardama
Sheetabheeruka
 Patanga
Stapaneeya (bright red)
All these varieties of rice are good for consumption.
QUALITIES AND HEALTH BENEFITS OF RICE
Swadu rasa – Sweet taste
Swadu paka – Sweet taste conversion after digestion(metabolic property)
Snigdha – Unctuous
Vrushya –  Natural aphrodisiac
Baddh alpavarchasaha –  Causes mild constipation, produces lesser volume of faeces
Kashaya anurasa –  Mild astringent in taste
Pathya – Suitable for daily consumption
Laghu – Light to digest
Mutrala – Diuretic and increases urine volume
Hima – coolant in nature
WHICH ONE IS BEST?
Red variety (Raktashali or shalidhanya) of rice is the best quality.
It cures or relieves thirst and balances tridoshas.
Next best variety to raktashali is Mahan (big sized rice) variety.
Next to it is Kalama variety, and the chronology continues, as mentioned above.
Yavaka, Haayana, Paamshu, Vashpa, Naishadha, these varieties of rice have following qualities :
Svadu –  Sweet in taste
Ushna –  Hot in potency
Guru –  Hard to digest
Shleshmapittala –  Increases Kapha and Pitta
Snigdha (unctuous, oily)
Amlapaka – Has sour taste conversion after digestion(After taste)
Srushtamutrapureesha – Increases quantity and volume of faeces and urine
They are bad in quality their reverse order.
SHASHTIKA SHALI (PADDY WHICH MATURES IN 60DAYS)
Shashtika shali is best among all paddy.  It has following qualities :
Snigdha – unctuous, oily
Grahi – Absorbent, stops loose stools, useful in mal-absorption syndrome and diarrhea
Laghu – Light to digest
Svadu – sweet
Tridoshaghna – Balances all the three Doshas
Sthira – Brings in stability
Hima – Coolant
Shashtika shali is of two types
Gaura – White variety
 Asita – Gaura (blackish white)
Next to shashtika or  inferior to shashtika is mahavrihi, next to that is krishnavrihi and the others such as jatu mukha, kukkutandaka, lavaka, paravataka etc
The other types of rice are –
Sweet in taste
Amla vipaka (sour at the end of digestion)
Increases Pitta
Hard to digest
It increases volume of faeces and urine
Increases the body heat
Causes the imbalance of Tridosha
TARUNA DHANYA VARGA
(GROUP OF GRAINS PRODUCED BY GRASS LIKE PLANTS)
Kangu(Priyangu), Kodrava, Neevara, Shyamaka and other grains are
Cold in potency
Easily digestible
Increases Vata
Lekhana (scraping property)
Balances Kapha and Pitta
Amongst all these, Priyangu helps in fracture healing, is nutritive and nourishing and is a little hard to digest.
Koradusha is grahi (absorbent), coolant and anti-poisonous.
PROPERTIES AND BENEFITS OF YAVA/BARLEY
Rooksha (dry)
Sheeta – cold
Guru (Heavy to digest)
Svadu – Madhura (sweet)
Sara – promotes bowel movements
Vit-vata krut – it increases the bulk of faeces and causes flatus
Vrushya – natural aphrodisiac
Stairyakrut – increases body stability
IT IS USEFUL IN –
Mutrameda – Urinary disorder
Pitta – Kapha imbalance disorders
Peenasa – Running nose, rhinitis
Shwasa – Asthma, breathing difficulty, COPD, wheezing,
Kasa – cough, cold
Urusthamba – thigh stiffness
Kantaroga – diseases of throat
Twakroga – skin diseases
Anuyava ( a small sized barley) is inferior in qualities to the Yava. Venuyava (seeds of bamboo) are non- unctuous and hot in potency.
PROPERTIES AND BENEFITS OF GODHUMA/WHEAT
Wheat is
Vrushya – Natural aphrodisiac
Sheeta – Cold
Guru (Heavy to digest)
Snigdha – Unctuous, oily
Jivaniya – Enlivening
Vatapittaha – Balances Vata and Pitta
Sandhanakari – Heals fractures and wounds
Madhura (sweet)
Sthairyakrut – Increases body stability
Sara – Promotes bowel movements
Pathya  – Can be consumed on daily basis, doest not block the Patha(channels)
Nandimukhi variety of wheat is good for health. It is
Sheeta – cold
Kashaya (astringent)
Madhura (sweet)
Laghu (light to digest)