My kinds and I love shrimp:) and this is one of the recipes I concocted to satisfy my shrimp tooth. It was a super hit at our family table :) My kids loved the flaky crispy puffs and were super excited that it had shrimp in it. Im sure you will love it too........ this brings back memories of me and my friends having some egg puffs outside our school at the Indian bakery......... ohhhh yummmm :) Enjoy it and make sure you make lots coz they disappear in minutes:)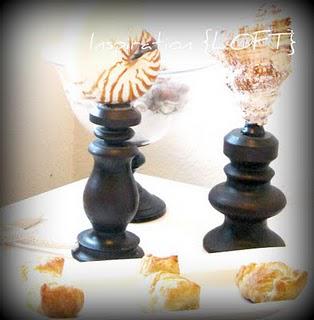 Ingredients:
Puff Pastry Sheets – 1 box 
For the Filling:

Oil – 1 tsp
Butoon shrimp- 1/2 pound
Onions – 1/4 small, finely chopped
Salt – to taste
Cumin Powder – 1/4 tsp
Coriander Powder – 1/2 tsp
Turmeric powder – 1/8 tsp
Red Chili Powder – to taste
Green Chilies -1
Cilantro- few
Procedure:
1. Take the sheets of Puff Pastry out and thaw them according to the instructions on the package.
2. Pre-heat the Oven at 400 degrees Fahrenheit.
3. Now for the stuffing, take a small skillet and heat Oil on medium heat.
4. Once hot, add in the Onions and saute till they turn translucent and add salt.
5. Add the shrimp ,green chili and coriander leaves and saute
6. Add Cumin Powder, Coriander Powder, Turmeric Powder and Red Chili Powder.
7. Cook on low flame covered. Once done mix well and keep aside.
8. Cut the Pastry sheets strips into 3s to form a square.
9. Put 1 tbsp of the stuffing in the center.
10. Fold the Pastry Sheet and seal with water.
11.  Put the Puffs on a cookie sheet lined with foil.
12. Place in the pre-heated oven at 400 degrees F for 15 minutes.
13. Once they are out of the oven, transfer them to a cooling rack and allow them to rest and cool down for 5 minutes.