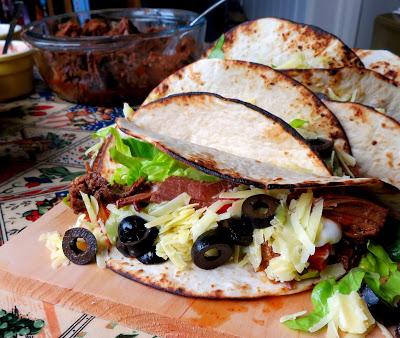 The recipe I am sharing today is loosely based on one I found on
Gimme Some Oven
, who borrowed her recipe from .
My Kitchen Addiction
.  And I will wager that she probably was inspired from somewhere else.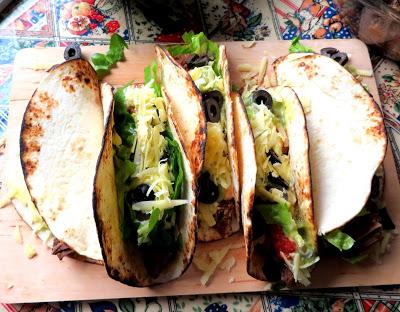 You know that old saying  . . .  "There is nothing new under the sun."  This is one I love about the food blogging community. We are always sharing with and inspiring each other.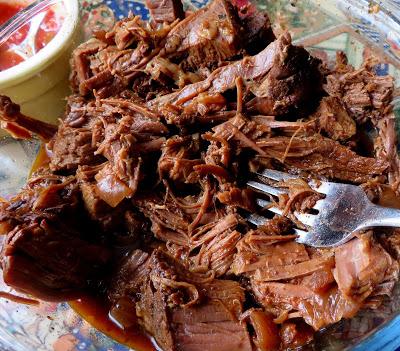 I saved a few steps in the recipe. They rubbed the meat in the herbs and spices and then browned it first before putting it into the slow cooker.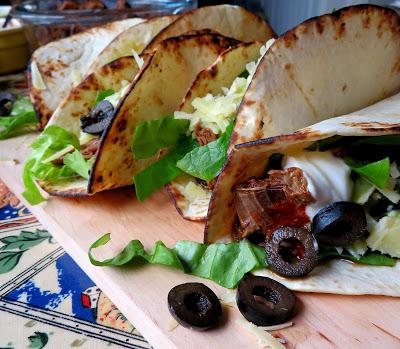 I didn't have time for faffing about with browning and such.  I just put everything into the slow cooker and cooked it.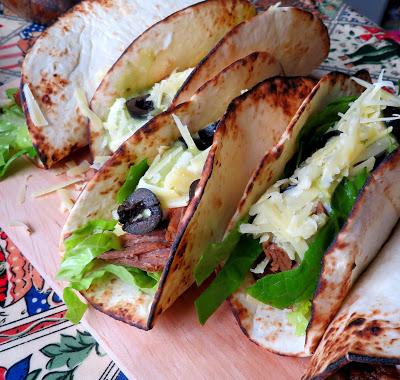 I placed the onions and garlic on the bottom of the slow cooker and topped it with the meat . . .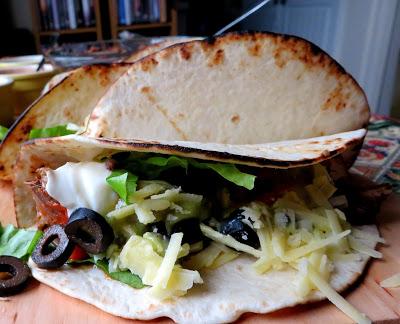 Then I stirred everything else together and poured it around and on top of the meat.  That's it  . . .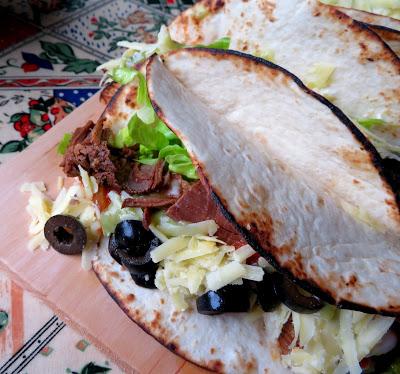 Simple.  Easy. Delicious.  You can either cook it on high for 3 to 4 hours, or low for 6 to 8 hours  . . .
Once the meat is tender you take it out of the slow cooker and shred it with two forks.  I also cut into it with my kitchen scissors so that it was more chunky and less strand-like.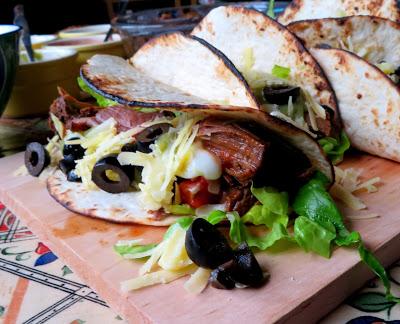 I have a think about eating meat that is in strands . . . it almost  makes me gag. I would rather have chunks  . . .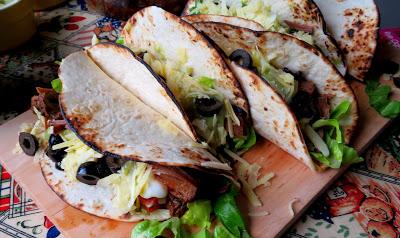 I used soft white flour tortillas for them.  The small ones.  I like to toast them over the hot flame of a gas burner  . . .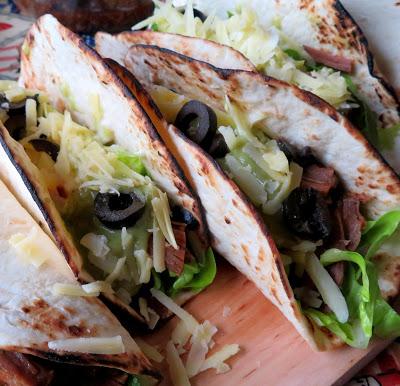 But you heat them whichever way that you prefer  . . .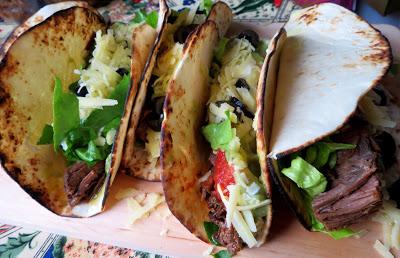 We enjoy them with salsa, guacamole, sour cream, sliced black olives, lettuce and grated cheese . . .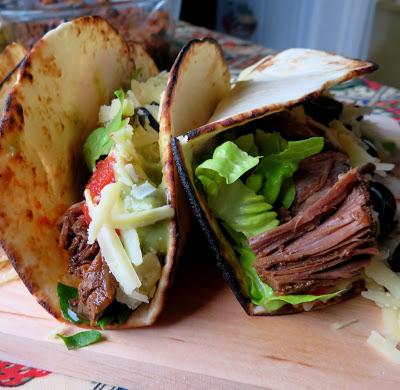 Any leftovers can be used to make quesadillas, or burritos, maybe even empanadas . . .  if you enjoy these even half as much as we did, you are in for a real treat!
Yield:
3 - 4
Author:
Marie Rayner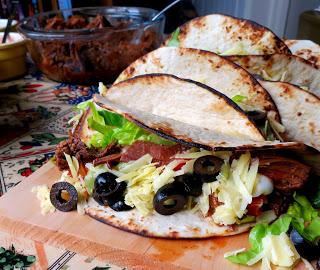 Shredded Beef Tacos
Fork tender beef that works very well in tacos, and would indeed also be great in burritos or quesadillas
ingredients:
2 pounds Beef Brisket in one piece
1 TBS mild chili powder
1 tsp ground cumin
1 tsp dried oregano
1/2 tsp coriander leaf
1/2 tsp smoked paprika
240ml beef stock (1 cup)
2 TBS tomato puree (tomato paste)
1 tsp Chipotle in adobe paste
1 juice of one lime
1 small white onion, peeled and diced
5 cloves garlic, peeled and  minced
salt and black pepper to taste
You will also need:
warmed small soft tortillas
your favorite taco toppings (cheese, guacamole, sour cream, salsa, sliced black olives, lettuce, spring onions, etc.
instructions:
How to cook Shredded Beef Tacos
Place the chopped onion in the bottom of the slow cooker along with the garlic cloves.  Place the meat on top of these.   Whisk together the stock, tomato puree, all of the herbs and seasonings and lime juice.  Pour over and around the meat.  Cover tightly and cook on high for 3 to 4 hours, or on low for 6 to 8 hours.  When the meat is falling apart, remove from the slow cooker and shred with two forks.  Ladle some of the hot juices over top and serve warm, with warmed tortillas and your favorite taco toppings.  Cover and refrigerate any leftovers.
Did you make this recipe?
Tag @marierayner5530 on instagram and hashtag it #EnglishKitchenCreated using
The Recipes Generator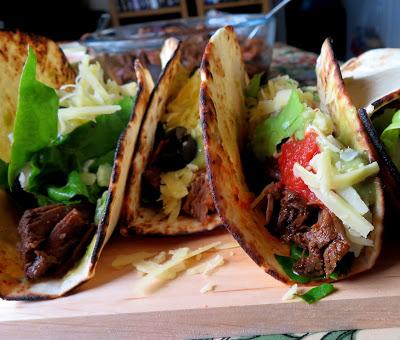 This is the perfect meal when you are busy doing other things, or are feeling too lazy to really cook.  Its nice to have something like this up your sleeve that you can just pop into the slow cooker and you just know your family is going to enjoy it.  In my family Tex Mex was always King!  They loved it!