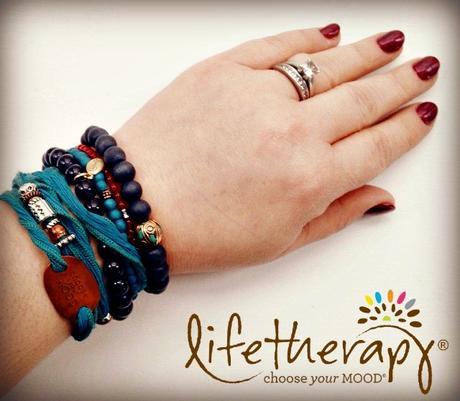 Arm parties, as I showed on Instagram yesterday, I've been rocking since 1989. Especially since my metal allergy makes it hard to wear rings and earrings, I love a wrist full of bracelets that not only look great but hold meaning for me.
Lifetherapy has been a favorite company of mine for a while. Lynette Lovelace, the founder of Lifetherapy is one of the most positive and inspiring women I have met through blogging. Her tagline for Lifetherapy is, "Choose your MOOD" and she inspires through her thoughts on social media, her uplifting emails, and her beautiful collection of jewelry and scented bodycare. Lynette believes fragrance and color are often the first things noticed or the last things remembered and that our senses truly affect our mood; her goal with Lifetherapy is to impact your life in a tangible, lasting and positive way. Lynette is behind the concept, design, and execution of her entire line, and of Lifetherapy's products are made in the USA.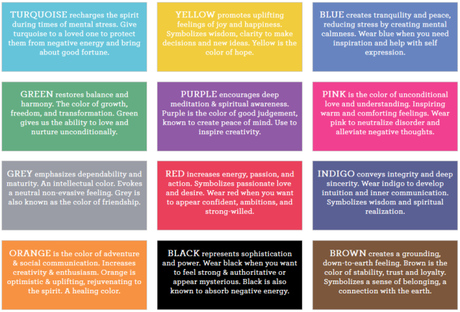 I have several of Lifetherapy's Positivity in Color bracelets. The goal of these bracelets is to illustrate expression of mood through color and the positive effects different colors hold. I love to put on my turquoise Lifetherapy bracelets in times of stress (and love that it also represents my zodiac sign), red on a day when I have to be on my A-game, black when I have to speak in front of a crowd, orange when I'm attending a party or blogger event. The photo at the top of the post is my wrist featuring some of my favorite bracelets from the brand, but I often wear just one bracelet with my silver cuff, gold Rebecca Minkoff bracelet, or a mix of different metals. I love that these beautiful bracelets pair so nicely with other bracelets in my collection, but have this added meaning and effect.
Lynette has paired different bracelets together into sets that evoke a mood. From Wisdom & Hope to Friendship & Understanding, Creativity & Renewal to Growth & Trust, these sets combine various styles and colors of her bracelets together to make a beautiful combination to wear or to give as a thoughtful gift.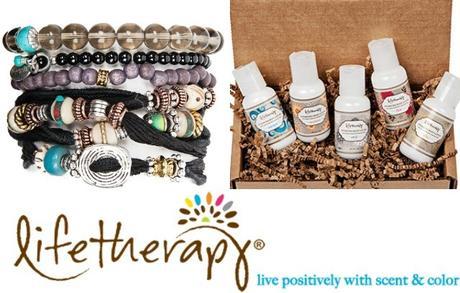 I have learned so much from all of you who contribute to this Wardrobe Oxygen community. From your comments on posts, emails, thoughts on Facebook, Twitter, and Instagram, to those I have met in person, I am a better person and my life is richer because of you. So when Lynette and I were discussing what to have for Lifetherapy's giveaway we decided the Powerful & Intelligent Bracelet Set. While a neutral palette that can blend well with many personal styles, this is also a set of bracelets that can remind you of how smart and strong and amazing you are. Along with the bracelet set, Lynette will also provide the winner with a Body Lotion Sampler Set so you can experience all four fabulous scents from Lifetherapy.
Wardrobe Oxygen + Lifetherapy Giveaway