This month, the month of love, I want to celebrate you. It's the tenth year of Wardrobe Oxygen, and this blog wouldn't be here today if it wasn't for your love and support. To show my love in return, I've partnered with some of my favorite brands to offer you some amazing gifts. These giveaways are not sponsored, I am receiving nothing in return for hosting them, I will not be promoting these giveaways on social media so to increase the chances of you regular readers winning. The brands know this, and have chosen to donate great gifts because they too want to show you the love.
It's no secret that I adore Isaac Mizrahi and have been a fan for years. I love his use of color and how his looks are feminine but full of fun and energy, and how he designs for real women. Researching for this post I found this quote by Mizrahi, "...One of my goals as a designer has always been to get my customer to look in the mirror the right way. I don't want her to buy this because it's a big fantasy, but because she will look in the mirror and think she looks good." This goes right along with my thoughts on fashion and personal style and what Wardrobe Oxygen is all about, so when I was contacted by his brand I was uber psyched and asked if they would like to host a giveaway this month.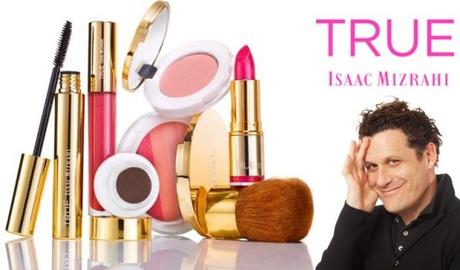 Issac Mizrahi recently teamed up with True Cosmetics to launch TRUE Isaac Mizrahi, a line of skincare and colorful makeup. "I am so happy to be launching a beauty line. I love color, and now I get to share my passion for it in this new and exciting way," says Mizrahi. Housed in elegant gold packaging, the 144-piece collection is cruelty-free and infused with blends of green and white teas, marine algae, Vitamins A and E. I love that the shades are named after Mizrahi's favorite Hollywood icons and New York locales.
The shadows in this line are made with a special ceramide complex that help smooth the eyelids so powder never creases, while reducing fine lines and wrinkles. I love the Eyeshadow Trios compact which comes in three color combinations for a bold runway-ready look. The Pure Lipcolor comes in eight creamy, long-lasting shades that will hydrate and protect your lips while delivering bold color. I'm partial to Audrey Red which would bring a much-needed pop of color to a gray winter day yet still look fresh come spring. There's 20 shades of the Nail Lacquer available, and the formula claims to be water resistant, chip resistant, and fade resistant. While I'm a classic red nail gal, I'm drawn to the dark navy shade of Jean Blue.
If this collection sounds as good to you as it does to me, today is your lucky day. One Wardrobe Oxygen reader will win their color choice of the Eyeshadow Trio, Nail Lacquer, and Pure Lipcolor. I think so many pieces from TRUE Isaac Mizrahi sounds fabulous but thought these three pieces would let anyone of any skin tone or type enjoy this prize. Enjoy, and good luck!
Wardrobe Oxygen + TRUE Isaac Mizrahi Beauty Giveaway