This month, the month of love, I want to celebrate you. It's the tenth year of Wardrobe Oxygen, and this blog wouldn't be here today if it wasn't for your love and support. To show my love in return, I've partnered with some of my favorite brands to offer you some amazing gifts. These giveaways are not sponsored, I am receiving nothing in return for hosting them, I will not be promoting these giveaways on social media so to increase the chances of you regular readers winning. The brands know this, and have chosen to donate great gifts because they too want to show you the love. <3

I can't think of any brand better to start off this month of love than Dagne Dover. Introduced to me by a Wardrobe Oxygen reader, it has quickly become one of my absolute favorite bag brands. Woman-owned and designed (and while not made in the USA, they're very transparent and thoughtful about it), Dagne Dover bags are brilliantly designed for the busy woman. Dagne Dover's philosophy is, "You are what you carry." They believe a stylish, organized bag can help you feel ready for anything and their bags have a place for everything - from your laptop or tablet to your subway farecard to even a water bottle or damp umbrella. Not only that, from a blogger "behind the scenes" point of view, Melissa Mash, CEO of Dagne Dover (um how cute is their "About" page? I want to make Melissa wink all day!) has been awesome to work with. Yes, I email with the CEO of the company, not an intern or an external PR firm. She's funny, fun, positive, and cares about what you, the readers of Wardrobe Oxygen, think and like.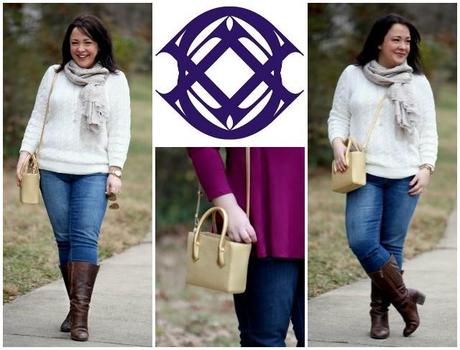 I have several Dagne Dover bags now, but my favorite is the Tiny Tote. While the size is small, the organization and style is mighty. A strap that can adjust to shoulder or crossbody length (or removed for an adorable handbag), plenty of pockets designed to hold quick-access essentials like your ID, lipgloss, and pens; but my favorite is a removable cardcase on a detachable keystrap. I use this cardcase so often, removing it to do a dash to the ATM or Starbucks while keeping my bag with my family in the car, or slipping it out of the Tiny Tote to use in a clutch as a small wallet.
Available in a bunch of colors to fit the personal style of any woman, the Dagne Dover Tiny Tote is the perfect little bag to add to your wardrobe. Well how would you like to win not just one Dagne Dover, but a second for your BFF? Dange Dover and I want to show you the love, so Dagne Dover is offering one Wardrobe Oxygen reader one Tiny Tote to keep, and one to give to a friend!
To be sure you receive your Tiny Totes in time for Valentine's Day, this will be a quick giveaway - enter before February 10th! Please read details, terms and conditions in giveaway widget before entering. I'm really psyched to be able to share this great brand with you and wish you the best of luck with the giveaway!
Wardrobe Oxygen Dagne Dover Tiny Tote Giveaway