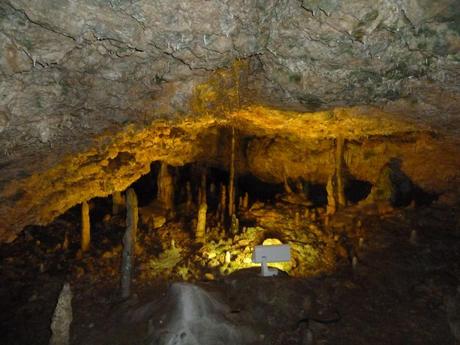 Show caves may not be what comes to mind when you think of "Germany" but Germany has 51 of them.  A show cave is loosely defined as a cave that is suitable for visitors, that is accessible by foot using walkways and stairs ,and normally equipped with lighting.   Show caves often include guided tours as well.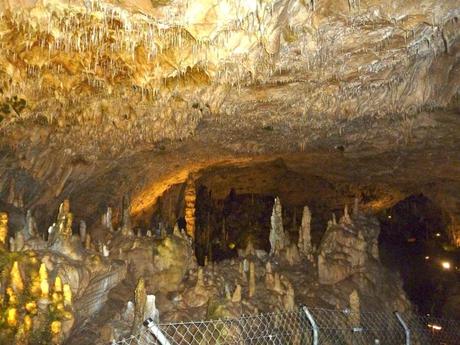 Stalagmite and stalactite formations in Bear Cave.
You may want to include a show cave in your itinerary when you travel in Germany for a different adventure.  Two such show caves are found near Sonnenbühl, ~60km south of Stuttgart, the Bear Cave (Bärenhöhle) famous for the cave bear skeletons found there and Fog Cave (Nebelhöhle) one of the longest and most beautiful caves in southern Germany. We went to Bear Cave first which is only accessible by a guided tour.
The skeleton is a reminder that Bear Cave used to be used as a mass grave.
Only German tours are available, but with some translation help from my husband I learned a bit about Bear Cave's interesting history, including that over the years it had been used as a refuge for people due to it's constant temperature regardless of the temperature outside, a graveyard and later as a dump and a mass grave.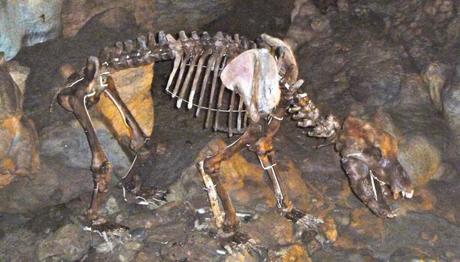 Bear cave gets its name from the numerous cave bear skeletons found there.
Bear Cave wasn't just used by people though, it was heavily used by cave bears of which numerous skeletons were found from this creature that has been extinct for over 15,000 years. Hyenas and wolves also used Bear Cave. Somehow I'm thinking I wouldn't want to be sharing a cave with cave bears, hyenas and wolves, but maybe that's just me.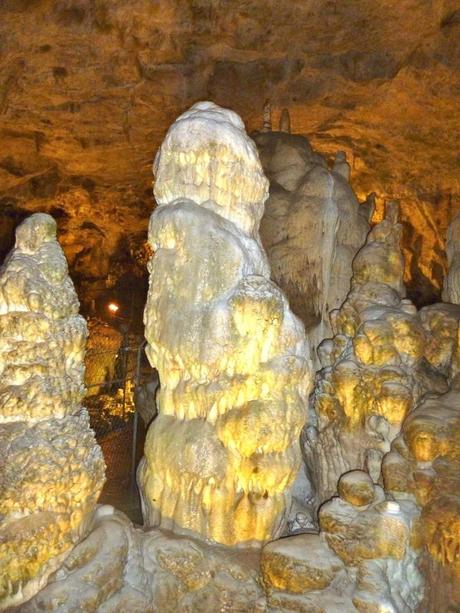 Huge stalagmite formations were a highlight of both Bear Cave and Fog Cave.
Bear Cave is beautiful in itself and although only 250m of it is open to the public, I enjoyed it and the guided tour. I was curious to see how Fog Cave, which is one of the longest caves in southern Germany with 450m open to the public compared and was even more impressed.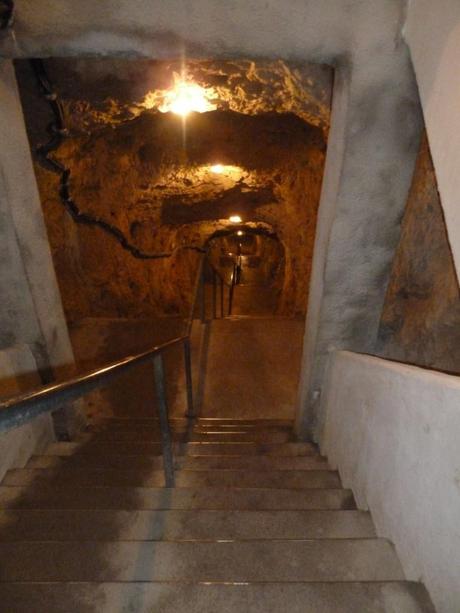 The entrance to Fog Cave leads visitors down a steep set of stairs.
Guided tours are available of Fog Cave, but not when we were there, so we went on our own, descending what seemed like endless steps followed by seemingly endless stalagmite and stalactite formations that had me oohing and ahhing.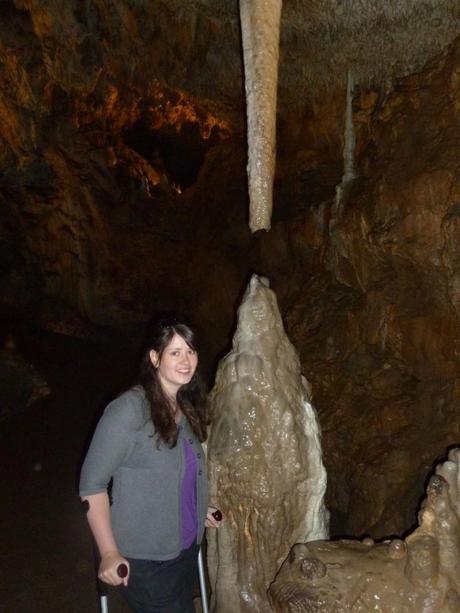 Huge stalagmite and stalacite formations that one day will grow together.
While much tamer than Horne Lake Caves, I still enjoyed both Bear Cave and Fog Cave, but would classify it as a family friendly outing rather than an adventurous one, since you're simply walking through a cave, rather than actually caving.  If you're going to do just one, I would have to recommend Fog Cave because it's more grandiose. If you do both, then I would recommend going to Bear Cave first, then Fog Cave. Tours of Bear Cave and Fog Cave can also be combined with other nearby sights including a visit to Lichtenstein Castle, perched on a clifftop or a quick hop to Germany's only Easter Egg Museum.  Both caves are accessible for anyone capable of walking, (but I wouldn't recommend doing it on crutches as I did), but some of the kids under the age of 6 were afraid of the skeletons in Bear Cave and the dimly lit atmosphere in both caves.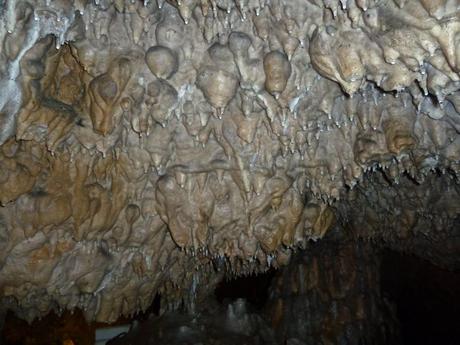 I couldn't stop giggling when I saw these formations.
Bear Cave and Fog Cave are open daily from April – Oct, only on weekend and public holidays in November and March and closed from Dec – Feb for bat conservation. Neither cave is directly accessible via public transportation so if you go by bus you must be prepared to walk a bit.  For more info visit the Höhlenwelten Sonnenbühl website (only in German).  Have you ever visited a show cave?