May 20, 2014
Editors note:  This post went from a "what to do to fix the Red Sox" to a "how nothing really needs to change" in about 10.5 seconds.  This team is still really good and just needs a few bounces to go their way.
UPDATE: The Red Sox have signed Stephen Drew to play short and Boegarts will shift to third.  Not mad at all about this as they lose zero players and it's again just a one year deal.  It also keeps Middlebrooks from having to rush back and hopefully he can regain his offensive mojo.  
It's been a tough season to read for the Red Sox thus far.  Granted, the Bruins monopolized a lot of my time the last month or so but I got a chance to see the Red Sox on opening day and Patriot's Day and I came away both days pretty unimpressed.  That confused me because I really pegged this team to be a good one.  Granted a hangover from the championship season may have been in the works, but I thought this team, which remained largely unchanged, would continue to pump out wins and lead the AL East at this point.  I also knew that every team, except the Rays, were going to be better as well, so in order for the Red Sox to make the playoffs again, they'd need to be good.  So far, through 40+ games, they're still in the mix, but a floundering offense and underwhelming pitching has made this season pretty tough to watch.
The thing that keeps me motivated and positive is that the rest of the division doesn't seem to want to take over either.  The Orioles can't stay consistent and the Yankees' age is beginning to crush them despite Tanaka's ridiculous start to his MLB career.  The Toronto Blue Jays are showing signs of life, as they should with their talented roster, and the Rays are under performing.  The Red Sox sit right in the middle of all of it, three games out of first in a division that might actually only get one team into the playoffs this year.  So, why is now the time to make a move? Because the division is open for the taking and a jolt in the offense and defense makes a whole lotta sense given the fact that the Red Sox have been mediocre at best in both areas so far this season.  The question has become, do they really need to make a move? (Editors note: They have!  It's Stephen Drew.)
Areas of need?  SP, 3B, OF, Runs scored.
The Red Sox have some of the better offensive players in the game.  Big Papi and Pedroia represent two of the hardest outs in baseball.  The Sox are near the top of the league in OBP (4th) but currently sit 16th in runs scored.  Where's the disconnect in their offense?  People have pointed to the lack of production at the bottom of the lineup, most notably third base, but should we just trade for a third baseman and hope that one player turns our offense around?  Probably not.  In fact, I'm not sure that making any kind of trade would make sense at this time.  Fangraphs has them projected to finish 84-78, the same record as the Blue Jays and one game better than the Yankees.  That's with the roster they have now, not with a trade or a promotion or any type of roster movement.  They just plain think the Red Sox are better on paper than they are performing right.  And of course they are, Clay Buchholz has been atrocious, third base has been a black hole of offense, their depth of outfielders have never really got it going and Jake Peavy and Felix Doubront are looking like they can't hold up the back end of the starting pitching staff.  Still, they're only three games behind the first place Orioles, a team that I think has just as many holes.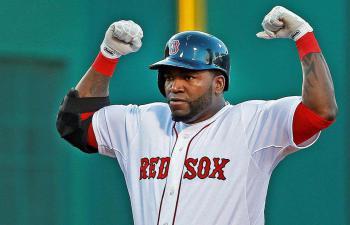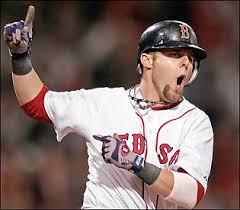 These guys are going to need some help.
So what should they do?  Some would say their staff needs some work but when you look a bit deeper at the stats, it doesn't really support that mode of thought.  Fangraphs has their pitching staff number one in WAR thus far in the season, even ahead of the blazing hot Detroit Tigers  The culprit seems to BABIP as the Red Sox seem to be pretty unlucky once the ball is hit off the bat.  In that same chart, you'll see the Sox dead last (or first I guess) in BABIP meaning that while their pitchers are valuable, once the ball is in play, they are about as unlucky as possible.  Statistics suggest that a regression to the mean will most likely happen, meaning that BABIP will come back down to earth.  As an example, the Tigers, number two in WAR, are 22nd in BABIP which is a rating more understandable given their WAR.  So leave the staff the way it is?  For now, yes, but monitor Peavy, Buccholz and Doubront and be ready to interject some youth into the staff if needed.
On the offensive side of the ball, the Red Sox sit at 22nd in terms of WAR and while their 4th in the league in OBP, as noted above, they're just not turning that into runs.  The bottom of their lineup isn't producing and Petey and Papi just can't do it all.  Farrell seems to be willing to set lineups based on match ups but another consistent bat wouldn't hurt (a la Ellsbury last year.)  I didn't think we'd miss him that much but it's apparent that having an outfield full of platoons seems to be troubling at this point.  So is it time to go trading for Fat Panda, or some other third baseman and give up hope that Middlebrooks is the guy or Holt can hold it down?  Should we try to cash in on our outfielders or bank on Victorino, Bradley Jr and Sizemore righting their ships and helping the offense?  I like the idea of holding firm and again maybe trying to infuse this lineup with a bit of young blood.  Guys like Garin Cecchini (maybe) and Mookie Betts (unlikely) have been mentioned as possible call-ups and I'm more in favor of that than dealing for veterans, unless of course they could score someone like Adrian Beltre from Texas, but I doubt that's happening any time soon.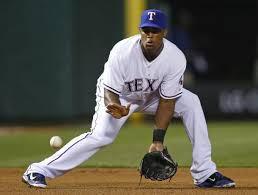 Could a Beltre return work for the Sox?
Long story short, it looks like the Red Sox have been a little unlucky on the pitching side of the ball and could use a spark from the offensive side of the ball to help things even out.  Making moves just to make moves doesn't excite me, especially when this team is still very talented on paper.  A move like Beltre would add a lot of defense and some intriguing offense to the team but outside of that buying low on Sandoval or going after one of the other available third baseman doesn't interest me that much.
Let's see how these next few weeks shake out before we start panicking and saying this year is a bust.  The Red Sox are a few games out of first place and have a ton of time to make it up and a ton of talent to make it happen.
Again, they've just signed Stephen Drew which doesn't necessarily change anything except clear up who's going to play third base.  Let's hope Drew hits a little bit this year and helps the offense as much as he'll help the defense.
Post navigation
← Angels Fan Crushes Elderly Lady Trying To Catch A Foul Ball