October 10, 2019 Leave a Comment
Should I give my child cod liver oil? Nutritional deficiencies are a risk with picky eaters and parents often wonder about supplements like cod liver oil.
Many Moms are not aware that a balanced diet plan is more important than finishing a plate full of food. An unbalanced diet can lead to nutritional deficiencies, which can affect a child's growth and development. The best way to overcome these is by including foods from all  food groups so the child gets an array of essential nutrients.
However, as any parent knows, this is easier said than done! Getting a picky eater to eat even two food groups is a challenge, let alone everything. Despite all the important nutrients and health benefits it has, even breast milk is lacking in Vitamin D, which is needed to help the body absorb calcium from food and milk.
This is where the question of supplements pops up. Many Moms are advised to give their children cod liver oil, which is a fish oil supplement packed with Vitamins A, D, EPA & DHA and omega-3 fatty acids.
One teaspoon (5 ml) of cod liver oil provides the following:
Calories: 40
Fat: 4.5 grams
Omega-3 fatty acids: 890 mg
Monounsaturated fat: 2.1 grams
Saturated fat: 1 gram
Polyunsaturated fat: 1 gram
Vitamin A: 90% of the RDI
Vitamin D: 113% of the RDI
(Source – https://nutritiondata.self.com/facts/fats-and-oils/628/2)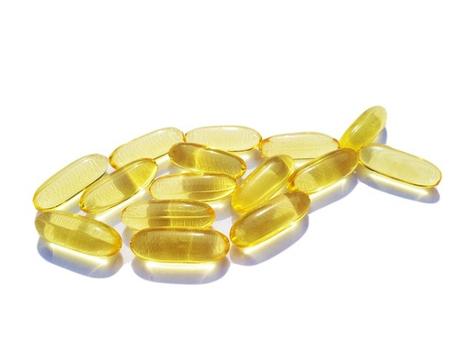 Cod liver oil is different from regular fish oil. Fish oil is extracted from fish like tuna, herring, anchovies and mackerel whereas cod liver oil is extracted from the livers of cod fish. In the 18th and 19th centuries cod liver oil was used to treat rheumatism, rickets and Vitamin D deficiency related diseases.  Later, companies introduced cod liver oil with different flavors to make it more appealing to kids.
Health Benefits of Cod Liver Oil
Helps the body to fight against infections and heals injuries
Improves bone health
Helps to reduce Joint pain
Supports eye health
Supports heart
Reduces symptoms of depression and anxiety
Heals stomach and gut ulcers
Helps to relieve joint stiffness
Delays age-related macular degeneration
Treats tuberculosis
Repairs wounds
Should I Give My Child Cod Liver Oil?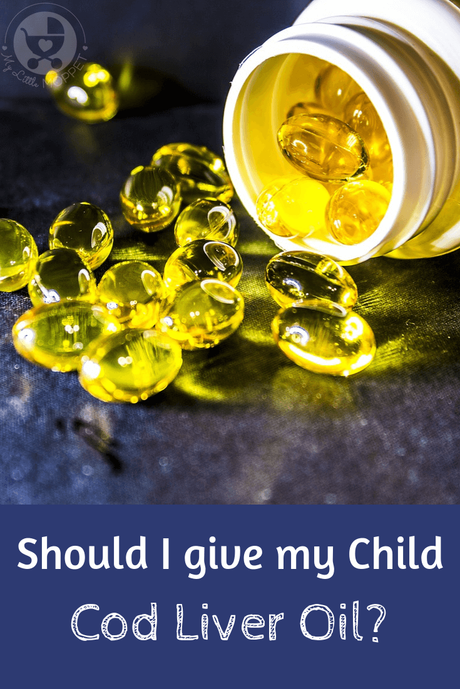 So does your child need this supplement? The answer is, "it depends". The AAP has no exact guidelines about when cod liver oil can be given to children or how much to give. While it's always better to meet the nutritional needs of the child with fresh foods, you can discuss with your pediatrician if taking cod liver oil would help keep nutritional deficiencies at bay.
It's important to get an authentic brand of cod liver oil. Some products may have mercury, polychlorinated biphenyls or dioxins contamination. Over consumption can lead to kidney stones, anorexia, weight loss, excess levels of calcium in the blood, frequent urination and irregular heart rhythms. It's necessary that the doctor's dosage recommendation be strictly followed.
Vegetarian Substitute for Cod Liver Oil
There are some vegetarian natural substitutes for cod liver oil as well. Seaweed and algae like nori, spirulina, and chlorella are among the few plant groups that contain DHA and EPA, making them an excellent option for vegetarians and vegans. These are also available in supplement format, like cod liver oil capsules.
Besides these, there are many other foods that offer the same benefits of cod liver oil or its vegetarian substitutes:
Nuts and seeds – Walnuts, pistachios, pumpkin seeds, poppy seeds, sesame seeds, peanut butter
Vegetables – Leafy greens, cabbage, Brussels sprouts, mushrooms, okra, tomatoes
Fruits – Oranges, Cantaloupe, apricots, mango
Dairy – Curd, cheese, milk
Other protein sources – Egg yolk, soybeans, white beans, tofu, oatmeal
All these foods can be added regularly in kids' diets as a natural substitute for cod liver oil. Always consider the risk of allergies and consult your pediatrician before starting any new supplement or diet.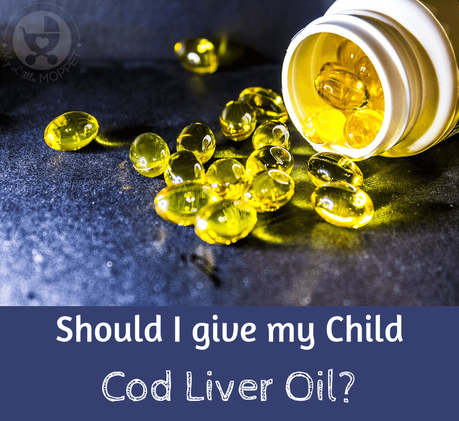 Buy Homemade Baby & Toddler Food from a Doctor Mom's Kitchen
Organic · FSSAI Certified · NABL Lab certified Buy Sprouted Sathumaavu Health Mix powder for Babies / Homemade Cerelac Dry Fruits Powder for Babies/Toddlers Pancake Mixes for Toddlers
Tweet
Pin
Share
WhatsApp
Email
Filed Under: Can I give my Baby?, Nutrition Tagged With: baby health, can i give my baby, cod liver oil, health, health supplement for kids, health tips, healthy, kids health, nutrition, supplements