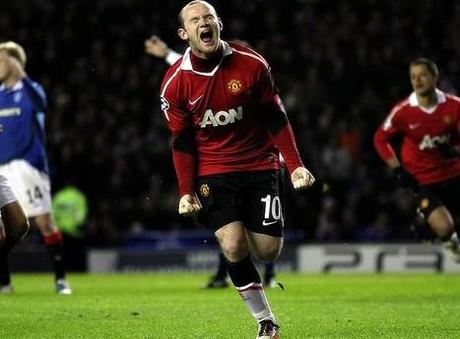 Not much to celebrate now for the Manchester United man. Photo credit: Audrey Pilato http://www.flickr.com/photos/americanistadechiapas/5284558112/
Wayne Rooney was sent off for kicking an oponent in England's final Euro 2012 qualifying match, against Montenegro. The unprovoked outburst has won him a three game ban, which will see him miss the entire group stages of the Euro 2012 Championships in summer, the BBC reported. A letter to UEFA from Rooney was not enough to stop them labelling the incident "assault." Their decision has left Rooney "shocked" and "disappointed", and now manager Fabio Capello is left with a selection dilemma as he decides whether to take Rooney to the competition at all.
"[Rooney] has inflicted the most painful blow possible on England's ambitions to do well next summer", bemoaned England striker-turned BBC pundit Alan Shearer.
Too harsh? While much of the country was berating Rooney's "stupidity", and placing blame on the player, rather than UEFA, Everton defender Phil Neville took to Twitter to blast the decision: "Rooney banned for 3 games what a joke – if it was a Dutch Spanish Italian German player they wouldn't even get 1 game." Matt Lawton of the Daily Mail also found sympathy in his heart for the troubled striker, tweeting, "The more I see Rooney's reaction after kicking out, the more I actually feel a bit sorry for him."
Rooney should go. Shearer argued that Rooney must be taken to Euro 2012. He told BBC Sport that Rooney is a special case: "I think anyone else maybe not, but he is England's best player." The BBC's Phil McNulty agreed that the prospect of having Rooney available for the latter stages of the tournament will be "impossible to resist" for Fabio Capello.
A distraction. Paul Hayward, writing in the Guardian, suggested that Rooney's presence would be a distraction in Poland and Ukraine, "casting complications over the group stage and expecting of fellow strikers that they merely fill in for him while he serves his self-inflicted banishment." Henry Winter of the Telegraph countered that "Rooney is a popular figure in the dressing room and there will be a collective anger within the squad at the way he has been treated."
Too reliant on Rooney? Hayward seemed resigned to the fact that Rooney will be in Capello's "mediocre" and "undistinguished" squad next summer, but was less than pleased. "English football's latest curse is to possess a maestro who is part match-winner, part liability." Sam Wallace of the Independent agreed that England's problem, even before Rooney's ban, was one of over-reliance on one player.
Look beyond Wayne Rooney. "Silence the violins; it is time to be strong and be bold", demanded Henry Winter. Rooney's absence opens the door for other British talent in the form of Darren Bent, Danny Welbeck, and Andy Carroll, among others. That said, he still warned that any replacements must be temporary: "If he elects to leave his best player behind, Capello may as well leave the team bus in short stay at Luton Airport.  It would be tantamount to taking down the St George's and running up the white flag."
More on football

Liverpool wants change to TV rights
Tevez tantrum
Fabregas goes home to Barca
QPR back in the big time
The Premier League needs a salary cap
Women's football scores big
More football »