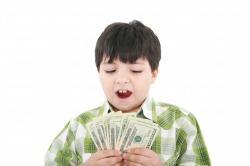 After I shared yesterday's post, 5 Ways to Get Children To Help With the Household Chores on several of my social media platforms.  I was asked to share my opinion on whether or not parents should be expected to give children an allowance for completing chores?  I personally feel that children shouldn't be expected to get an allowance for helping contribute to the family.  As I stated in my post yesterday, children want to feel needed in a family and assigning them chores gives them a chance to contribute to the family.  Children often feel useful and needed when they have the chance to contribute and do their share of the household chores.
Disclosure:  The opinions reflected in this post are my own and your opinions may differ from mine. 
Rule # 1 – School Work Comes First
My children (who are currently 2, 12, and 16) have never expected me to give them an allowance for doing their house hold chores.  When my children are in school, we have a rule in our house that they must complete their homework or projects first.  School work comes first because school is their job. It is important that they do their best and complete each grade level so that they can graduate and go off to college or get a job in the future.  Without schooling, it is very difficult to find a job.
Rule # 2 – Chores Have to Be Completed Before They Can Do Anything Else
Once their homework is completed, they have to complete their daily chores.  The chores that they are expected to do on a school night should typically take roughly 10 to 15 minutes to complete, unless they are procrastinating or taking their time to get it done because they are too focused on something else.
On the weekends, they are expected to help with the weekly chores before they can play video games, watch movies, or play.
What About Those Parents Who Are Still Wondering If Children Should Get Paid an Allowance to do Household Chores? Where Do I stand on This Subject?
I personally feel that as a parent, I am already contributing to take care of my children's basic needs including their food, a roof over their head, and other necessary items that it takes to live such as clothing, personal care products, laundry soap, ect.  I realize that this is my responsibility as a parent but I also feel as if they also have a duty to help out around the house.  It takes everyone working together to make a household run smoothly.  I take my children to do fun things and pay for their extra circular activities because I want to them to experience things in life and to do fun things.
I have never given my own children any money for doing their chores.  I want to teach my own children how to be responsible and teach them the necessary life skills so that they can run their own household once they move out.  I don't give them money because when they move out they will not be compensated for doing their own household chores.  I want them to get used to doing their chores without expecting money for taking care of their needs and house hold.
My mom always did a majority of the chores while I was growing up and she never taught me the necessary life skills that I needed to know when I moved out such as mixing chemicals and knowing how to run a household.  I knew how to do things but I didn't realize how time consuming they were and how quickly a house can get turned upside down if you don't stay on top of chores or cleaning up after yourself.  After, having my own children I quickly learned that they needed to pitch in and help clean up the messes that they created.  After all, I wanted to teach them how to clean up after themselves.  Cleaning up after yourself is a life skill that transfers to all areas of your life including at work, out in public, and at home.
As a teenager, I also wasn't interested in helping with many of the chores once I got a job.  I always wanted to go to work so that I could earn money.  I decided that I wanted my children to still be expected to help with the chores no matter what.  Of course, today it is harder for a teenager to get a job outside of the home at the age of 16.  If your child  is receiving an allowance, once your child is earning their own money they will no longer want the small amount of money that they would receive for doing their chores.  If they are paid for their chores, they won't want to do them even if they are paid for doing them.
To get weekly updates to Uplifting Families, please subscribe to my newsletter or join in the conversation with me on Twitter, Facebook, Pinterest, and G+.
Do you think children should receive money for doing household chores?  Why or why not?