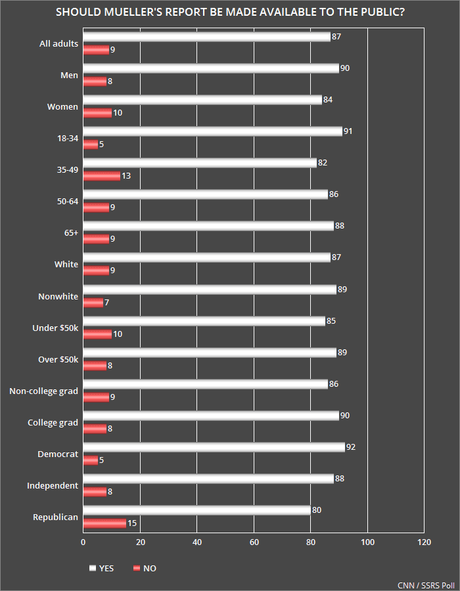 On 5/17/17, Deputy Attorney General issued order #3915-2017. That order appointed Robert Mueller as Special Counsel to investigate "Russian Interference With The 2016 Election And Related Matters". Mueller was given the authority to prosecute any federal crimes he found, and although not specifically stated in the order, is expected to write and submit to the Justice Department a report on what his investigation found.
The question is -- what will happen with that report, and who will get to see it. The nominated Attorney General (Barr) has refused to say whether the report will be made available to the American public. Instead, he has said he might just release a summary of what the report found. That's not good enough for congressional Democrats, who are afraid the Justice Department officials (appointed by Trump) might try to hide any findings that are critical of Trump. They want the report made public, and have promised to do whatever they can to achieve that.
What does the American public think? A CNN / SSRS Poll asked 1,011 adults that question between January 30th and February 2nd. Their poll has a margin of error of 3.8 points.
The results showed that Americans overwhelmingly want any report issued by Mueller to be made available to the public. That was the wish of 87%, while only 9% disagreed. And the same wish was made by every demographic group -- even Republicans (who showed the lowest percentage desiring the report be released at 80%).
Americans might disagree on whether Trump colluded with the Russian, or is corrupt, but nearly all of them agree on one thing. They want to know the truth about what the Mueller investigation found.