At the Detroit shop
Nora
, find a mix of Japanese- and Scandinavian-inspired wares. Slideshow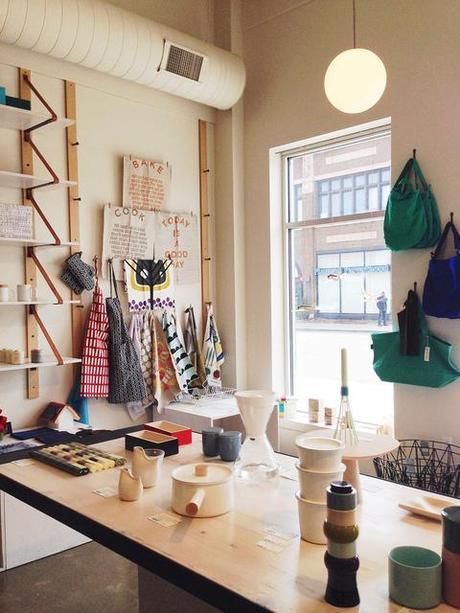 At Detroit's Nora, find a curated selection of modern housewares and accessories from local and international designers including pieces by Ferm Living, Kaico, Soma, and Artek.
In 2012, Toby Barlow, Joe Posch, and Liz Boone opened Nora in midtown Detroit (located to next door to another Shop We Love, Hugh).
Slideshow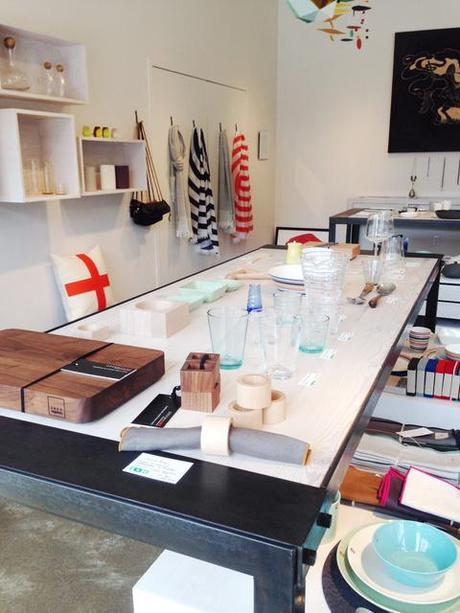 The shop has an especially strong selection of tableware: glasses and utensils from Iittala, Hasami porcelain, and a bar board from Michigan designer Jose Regueiro are standouts.
Barlow sought to channel Detroit's design legacy, "It's a city with real history— industrial history, American history, racial history, music history, art history—but what was of particular interest to us was its design history," he says. "So many great designers have passed through this city. They designed automobiles, ottomans, arches, and playing cards. Then the designers were gone, well most of them anyway, off to glamorous places like Santa Fe, Los Angeles, and Grand Rapids. Some, including the automobile designers, remained, but the conversation about design in Detroit had certainly quieted down. It became little more than a fluttering page in a magazine, an afternoon 'like' on a Pinterest page, a set of plates unpacked from a Christmas box. So we thought we would blow on the spark of what remained and then put a log on that fire and then make an inferno that we could dance about like ecstatic Shakers on a hot midsummer's eve, so that people would say 'Yes! Design! That City! Oh brother! You Gotta See This.'"
Michele Unverzagt, the store's manager who kindly answered our questions about the space, says, "As a team, we're all dedicated to the city. We believe in Detroit and have found a wonderful community that we enjoy being part of."
Nora
Address: 4240 Cass Avenue, Detroit, Michigan
Phone: 313-831-4845
Follow On: Twitter, Facebook, Instagram, Pinterest
What It's About: "Our inspiration comes from Scandinavian and Japanese culture. We're attracted to beautiful objects that can be used everyday and with each use, you appreciate them more and more," Nora's manager, Michele Unverzagt, says.
Philosophy: "We're very much about having unique, interesting pieces, things that are well crafted, that have lasting value," Unverzagt says. "We've curated a space that engages our guests with delight and will provide a collection of beautiful products that you won't see elsewhere in Detroit."
Slideshow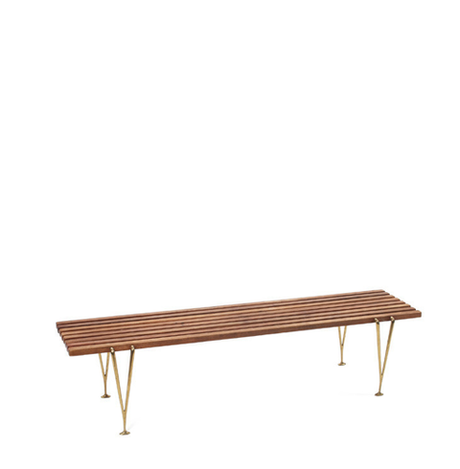 Hugh Acton's Suspended 50-inch bench is an especially meaningful furniture piece for Nora's co-owners.
What piece currently for sale is especially meaningful? "
The Hugh Acton Suspended Beam Bench is a special piece to Nora," Unverzagt says. "We were connected by a mutual friend and instantly fell for his designs. Hugh Acton is a modern renaissance man, nationally recognized as a furniture designer, artist, inventor, athlete, and philosopher. He's known for his metal and wood furniture benches and seating in the 1950s. The Hugh Acton Bench of 1954 had a large commercial success; the slat-wood and brass Scandinavian-style bench/coffee table was very popular and iconic for the era. After studies at Cranbrook, Acton worked in GM's Technical Center. He then launched his own companies to produce his furniture, which included storage units and coat/hat racks, as well as tabletop goods. He sold both firms to Brunswick Corp. in the mid-1960s, but retained ownership of his more craft-intensive designs including the Acton Bench. We're very fortunate to have his beautiful pieces at Nora. I really enjoy sharing his work with our guests, their amazed at the craftsmanship and the fact that Hugh's continued to make his benches and jewelry."
Weirdest Question From a Customer: "Did you make all this product?" Unverzagt says. "I always find that funny because we carry a lot of product! I wish I had the talent to create such beautiful objects."
What was the first piece you sold? "A music box that played Moon River," Unverzagt says. "The music boxes are a guaranteed way to put a smile on everyone's face."
Slideshow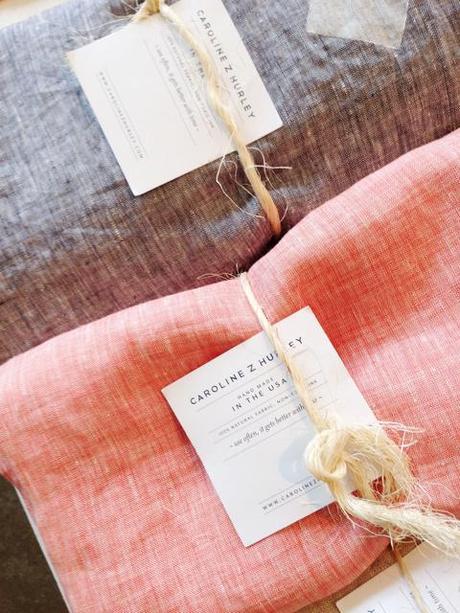 These linens are by Brooklyn-based designer Caroline Z. Hurley.
How do you source products for your shop? "We find inspiration through our travels, our customers, design blogs, Pinterest, and Instagram," Unverzagt says. "We try to build good relationships with our guests and I've had many good recommendations from them."
Local recommendations? "Parker Street Market is a wonderful organic market located in West Village," Unverzagt says. "They have great customer service and always welcome you with a smile. Signal Return, a community letterpress print shop in Detroit's Eastern Market, sells well-printed and -designed original edition prints, focusing largely on the work of Detroit-based artists, along with Michigan artists. It also offers a selection of trade books by Detroit writers and poets, along with books inspired by Detroit. You can take workshops and attend many interesting events at the space. Supino Pizzeria, which is also located in the Eastern Market. Hands down, best thin crust pizza around! Charming small space with a wonderful staff. I highly recommend the Supino: roasted garlic, black olives, chili oil, ricotta, and mozzarella with red sauce."