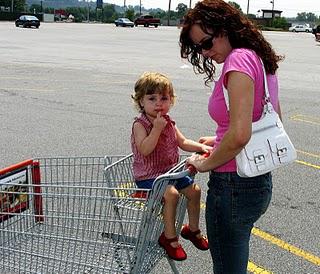 Do you grab those antibacterial wipes to clean your shopping cart? I do when I have the baby with me and sometimes when I am there by myself (which isn't often.) I also have one of those shopping cart covers(that I never seem to remember to bring in.)
I just realized something important while reading this story. I wipe off the handle of the cart and around the area where the child sits. I don't think I have ever wiped down the inside of the cart. I bet they have never been cleaned. Yuck! And According to this research, that yuck could make you or your kids really sick.

Do you wipe down your cart?


FROM NBC:

Watch where you put the fresh produce -- there's a good chance your shopping cart has fecal bacteria on it!

Researchers from the University of Arizona swabbed 85 shopping cart handles in four states and analyzed them. Many had e. coli and other bacteria. Disinfecting wipes are now offered at many stores and microbiologists say using them is the best way to sanitize shopping carts.


-NewsAnchorMom Jen


Skin Dimensions SB products, exclusive to Soderstrom Skin Institute, are manufactured with Pharmaceutical-Grade ingredients. In addition to being "Feel Good Products," they contain unique and innovative ingredients in concentrations that can assist you in the achievement of your own personal skin care objectives. This product line contains higher percentages of Glycolic, Vitamin A, C, E, Co-Q10, green tea, than what you can purchase over the counter.