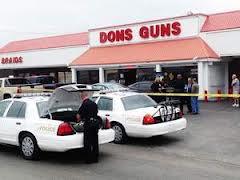 Local news reports
What happened to him and his reaction, is no surprise to fellow workers at gun stores across Indianapolis.
"Anytime something like this happens in a gun shop community, phone calls go out before the news," Mike Hilton, of Pop Guns.
Mike Hilton of Pop Guns and Family Indoor Shooting Range says his employees are highly trained in firearms tactics and use, and are even more watchful Monday. A number of years ago, Hilton had guns pulled on him in his store as well.
Don Davis, the owner of Don's Guns, says his clerk, Ben Chance, was shot twice by a customer, 26-year old Brian Wayner. He says Chance had just given Wayner his bill for using the shooting range inside.  Davis says Chance then fired back.. killing Wayner.
"He did exactly what any of us will do, we'll shoot you back," said Davis.
Interesting attitude these Indianapolis gun shop owners have isn't it? They sound as if this is not the extremely rare occurrence we often hear it is from the gun-rights folks.
Usually in an attempt to malign gun-free zones, the pro-gun guys will claim that shootings in gun shops
and police stations
almost never happen.  But that doesn't seem to be the case in Indianapolis.
What's your opinion?  When someone suddenly decides to shoot up the place, do you think they're concerned with whether it's a gun free zone or not?
Please leave a comment.