Men love to play golf for a number of reasons, but every guy is similar in a few ways. Every man wants to have nice golf clubs, a nice golf bag and attractive, stylish golf clothing for the course.
There are cases when guys wear golf clothing every day because it is casual yet very elegant. Choosing the right kind of golf clothing for men is essential to the personal wardrobe of many men and their look on the course at tee time.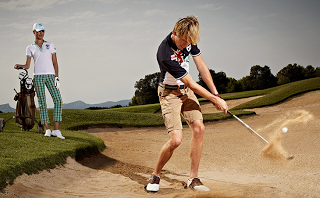 Guys who enjoy wearing golf clothing are not bound to a particular wardrobe. Payne Stewart wore knee-high socks as an homage to the history of the sport. Tiger Woods wears red every Sunday and Adam Scott looks good no matter what he wears. Depending on the guy's sensibilities, there is a line of clothing that will fit perfectly in his closet.
Every man enjoys picking out smart-looking golf shirts. In fact, there are many men who wear golf shirts for work with dress slacks. The sleekest of polo shirts are made from pima cotton with a sheen that makes them look akin to dress shirts. Other polo shirts are a little bit more casual but they still look nice enough for work.
The guy who hits the course in his favorite golf clothing enjoys playing the game more because he feels good in his clothes. Also, the man who doesn't necessarily accessorize in his every day wardrobe has no choice but to accessorize his golf wardrobe.
When a man is choosing his golf wardrobe, he can have a nice golf hat, visor or cap that looks just like what his favorite golfer wears. From the traditional golf cap of Payne Stewart to the Aussie hat of Greg Norman and the visor of Phil Mickelson, every guy can dress like his favorite golfer.
When choosing appropriate golf clothes, men can get all of the clothes that will work for them on the job, on the course and allow them to look good on the course. Golf clothing for gentlemen is a style choice that will stand the test of time.
Voice your opinion on our Golf for Beginners blog, on Twitter @Golf4Beginners and Like on Facebook.


Disclosure: This is a "sponsored post." The company who sponsored it compensated me via a cash payment, gift, or something else of value to write it. Regardless, I only recommend products or services I use personally and believe will be good for my readers. I am disclosing this in accordance with the Federal Trade Commission's 16 CFR, Part 255: "Guides Concerning the Use of Endorsements and Testimonials in Advertising.