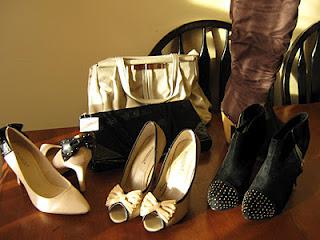 I was able to control myself and ended up with only 8 'Steals' items. Bevan, Alitza, Karmondy, Steady, Belden, Nevis, Slumber Party, and Carvela.
I was lucky and didn't receive any defective items, however I have two small complaints. I feel like I was mislead with the Nevis purse, which is supposed to be an Ivory colour but is actually a light shade of gray. Initially I wanted either the pink or the brown but settled on white because everything else was sold out. I was pretty disappointed with the color because in my opinion it's a pretty ugly shade however all sales are final unless something is defective. The SD customer service did contact me and I was very happy with their customer service.
My second small complaint was that I received a pair of nude Chanelles instead of Carvela. Which really was not a big deal because they weren't sold out of Carvela and once again I was happy with the customer service, they shipped me another pair of Carvela`s as soon as I sent pictures as proof that I received the wrong shoe.
I am so happy with all of my purchases. I absolutely love Altiza, she is so classy and sexy and a great comfortable height. Bevan is my first white shoe and I love the studded bow on the back that gives it a little more edge. I settled on the brown Steady after the burgundy had sold out and it exceeded my expectations. The Belden clutch was much bigger then I expected it to be, I will be able to fit everything I need in it. As for Kamondy, I initially hadn't even thought about purchasing her until I saw a picture of her on someone (not the model), and had to get her, I really like the studded toe.
The 'Steals' ended today, Jan. 31st and I've promised myself (and my boyfriend) I will only spend credits next month so I'm going to be very picky with next months shoes. I'm looking forward to the next 50% off sale, I'm guessing around the end of summer like they did last year.