My quest for a leopard print heel finally came to an end yesterday.
For months I told myself I just wasn't an animal print girl, I mean I do think the animal print shoes are cute (in some cases) but I didn't think it was something I would ever wear. But then one day while playing around on Polyvore and I created a set with a shoe that looked a lot like Mariska from
Shoedazzle
 and decided I had to have a leopard print shoe and that Mariska was the one I wanted. It's not like I had created some amazing outfit or anything, I just really liked the possibilities in a leopard print shoe.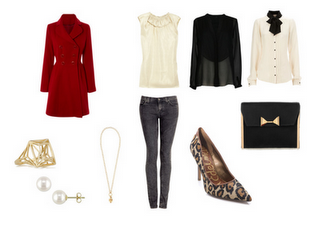 So my lovely boyfriend bought me Mariska on his shoedazzle account. (Yes he has one to buy/surprise me with.) I was so excited! I waited for nearly two weeks and  finally received my notice of delivery card in my mail box. I went to the post office to pick her up and when my lovely mail lady passed me the box... I knew it wasn't Mariska. It was a boot box. I went home and opened up my box and inside was a boot I had not ordered in a size and a half too big. My boyfriend called immediately to get a replacement but there was no Mariska in my size left, so I got Lavender in black instead, which I love.
I stalked Mariska for awhile, but never did find an 8.5. After awhile the steal section added Carvela in Leopard and I decided to give her a try. I loved the heel height which was about the same as Mariska and the T strap was a definite plus! So I placed an order of about 4 things and waited for Carvela to arrive.
Everything else arrived and then finally I got my last delivery card in my mail box! I went inside, got my package, and went home to open it. I honestly worried there would be another boot box when the mail lady brought it out!
When I got home and opened it, Carvela was not inside. Bummed, I called customer service who sent me a replacement after I sent pics in, luckily my size was still available! (The CS were super nice both times.)
Now Carvela was the only thing I was waiting for at this point so when I went to the post office to pick her up, I held my breath as I ripped open the package. Finally it was my leopard print heel! They fit perfectly and I love them! And of course, what's in stock right now as I write this post? Mariska in an 8.5!
I have to say that CS is always a pleasure to deal with always helpful and kind while doing so and I totally understand that these things happen! Sometimes it may seem like we see a lot of complaints on the facebook page of defects/being sent the wrong shoe or size. But In my 50+ purchases with shoedazzle these are the only 2 times I have ever had a problem. I just thought it was a funny coincidence that they were both the leopard print heel I was on a quest to own!