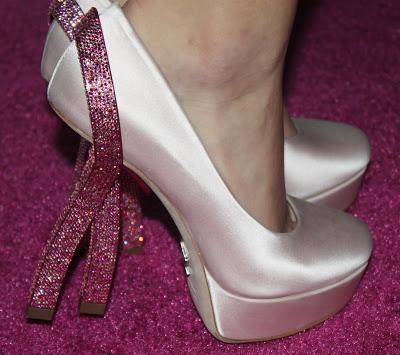 There are some shoes that simply take your breath away and the above is definitely one that took my breath away. I'm so happy to share this spectacular pump from designer, Caitlyn Hess and her SCHEÉ (pronounced SHE-AY) Collection with you. The above SCHEÉ Giuliana Pump for Breast Cancer Awareness is an exclusive design inspired by the fight against breast cancer. Handcrafted in Italy, this sensational pump is created with hand loomed silk satin and an absolutely stunning "breast cancer ribbon" heel covered with Swarovski crystals (I don't have final heel height but it looks like a 4"-4 1/2" heel). As the focal point of the SCHEÉ collection, the Giuliana Pump for Breast Cancer Awareness helps raise awareness, shows support, and "Walks to Make a Difference", three things that tie in perfectly with Caitlyn Hess's philosophy. If pink is not your color, the Giuliana also comes in a dynamic black and a entrancing champagne.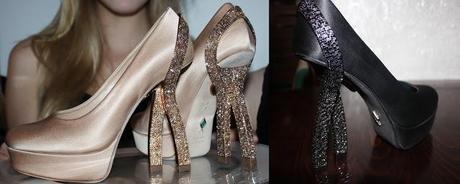 Each season, SCHEÉ selects a non-profit organization to donate a portion of every sale to. This season, SCHEÉ is working with Bright Pink, the only national non-profit organization focusing on the prevention and early detection of breast and ovarian cancer in young women, while providing support for high risk individuals. Five percent (5%) of the total sales of the SCHEÉ Giuliana will be donated to Bright Pink in support of breast cancer awareness.
As the Giuliana is part of the SCHEÉ Spring 2013 Collection, it is not available yet but you can pre-order it on their website at http://whoisschee.com/preorder/. Each pair retails for $2,495.00, again with 5% benefiting BrightPink.org. So ladies, what do you think of this stunner?