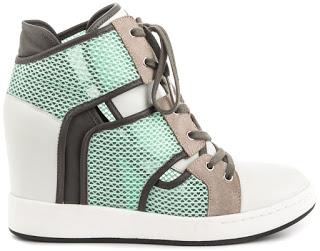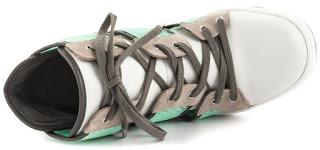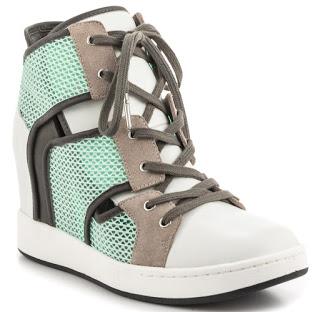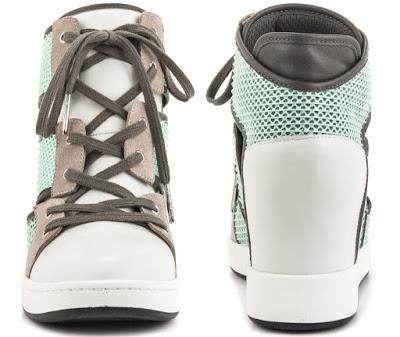 It's safe to say wedge sneakers were the key introduction to more women wearing sporty-inspired, fashionable shoes, and this cool footwear silhouette shows no signs of slowing down. Killing it in the wedge sneaker game is Gwen Stefani, just look at her L.A.M.B. Gera Wedge Sneaker. The very sporty chic Gera is a breath of fresh spring air with mint mesh panels over its white and grey leather upper. his edgy detail highlights the cutouts between the vamp/tongue and the back. The lace up front is also unstructured, as it is separated into three sections, perhaps for a more comfortable fit and better movement. op it off with a 3" hidden wedge heel and your look is fashionably complete. Grab this fresh wedge sneaker for only $299.99 on www.heels.com.
Category: Gera Wedge Sneaker, L.A.M.B., Shoe Blog, Shoe of the Day, Shoeography, Spring 2016 Collection, wedge sneakers, Women's Shoes, Women's Sneakers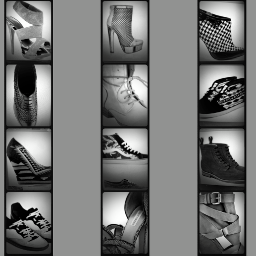 About SHOEOGRAPHY.COM:
Shoeography.com is a daily footwear blog highlighting what's new and what's hot in mens shoes, and women's fashion shoes!