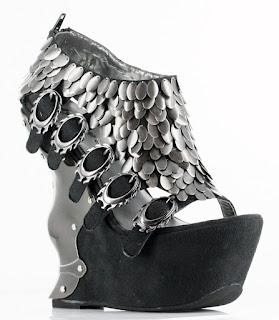 I'll give you a bit more time to fully take in each and every detail of the above work of art. Breathtaking aren't they? What you're looking at is the Hades Monique Wedge. A suit of armor for your feet from the makers of Steampunk shoes. If you love cogs, airships, goggles, and rivets, then bookmark the Streamtropolis company website (you may remember my highlight of the stunning Hades Oxford Boot).
Featuring a black suede platform and upper fastened by chrome plated iron cross wedge heel, 5 adjustable straps fastened by flame buckles and covered with Silver Egyptian Princess Scales which highlight an open-toe, this dangerously provocative 5" wedge with 2 1/2" platform will make everything including time stand still and put all eyes on you. I'm in awe at the sheer power and magnetism of this baby. And considering the detail and craftmanship of this statement wedge, the retail price of $175.00 is a bargain.......Hmmm, if my friends are reading this, I'll happily accept this as my gift for my upcoming birthday.
What do you guys think of this innovative silhouette?