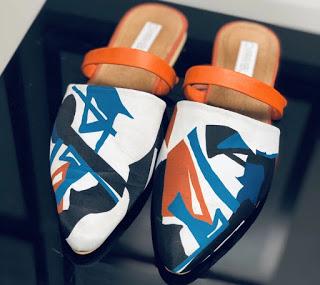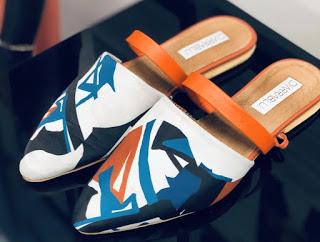 Here is another Black Designer and her gorgeous, luxury footwear to add to your list. Join me in drooling over the Diarrablu Finetti Ndar Mules, the beautiful handcrafted works of art you see above. The stunning flats feature a jacquard printed upper, which coordinates back to their breathtaking Ndar Tunic Dress; a thin leather strap separate from its closed front; leather sole; and leather loops made especially for the extra fabric ties it comes with to go from a classic slip-on to a wraparound mule. This beauty can be yours for $135.00 on www.diarrablu.com.
In addition to its eye-catching beauty, all Diarrablu shoes are made in their workshop in Senegal by local artisan communities. Founded by Diarra Bousso, an artist haling from Dakar, in 2013, the Dakar Boutique Group and Diarrablu celebrates her African heritage while empowering local artisan communities. She is a strong activist for the global celebration of the African cultural legacy and represents Senegal at the United Nations' new platform for art and heritage. Today she has built a global fashion business through her innovative design concept merging algorithms, tradition and sustainability. Diarra has showcased her collections during New York and Paris Fashion weeks and represented Senegal at World Fashion Week Paris. Her work has been featured in several prominent publications, including Vogue, Forbes, CNN and The NY Times
Category: Black Footwear Designer, Diarra Bousso, Diarrablu, Finetti Zena Mules, flat shoes, Flats, Luxury Shoes, Made In Africa, Shoe Blog, Shoe of the Day, Shoeography, Women's Shoes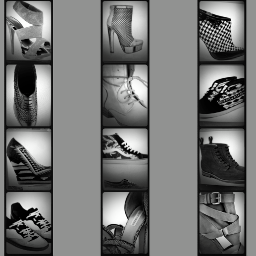 About SHOEOGRAPHY.COM:
Shoeography.com is a daily footwear blog highlighting what's new and what's hot in mens shoes, and women's fashion shoes!